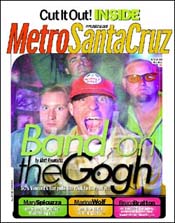 For the Week of
July 21-28, 1999
Cover: Band on the Gogh
Santa Cruz's Vincent's Ear puts the rock to the roll.
News: South Pacific Rumblings
Tired of feeling like the neglected stepchild of downtown, the South of Cathcart Action Team gears up to reclaim its streets.



Bruce Bratton: Parking garages, police palaces and tourists in shorts.



A Break From the Underground: Jurassic 5 does hip-hop the old school way.
Notes From The Underground: Palookaville hosts a surprise set by newly mellow Mr. Bungle.



The Green Grill: A meat-free approach to summer's greatest sport.



Cinema Interruptus: Critic David Thompson is kept waiting for 'Eyes Wide Shut.'
Grinding Gears: The completely charmless 'Inspector Gadget' is a waste of good effects.



Family Feud: Shakespeare Santa Cruz's production of 'Romeo and Juliet' rocks the boat of tribal intolerance.