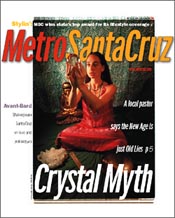 For the Week of
July 23-29, 1998
Cover: Crystal Myth
A local pastor says the New Age is just Old Lies.



Hot-Weather Happenings: A complete guide to this summer's cultural, recreational and phantasmagorical fun.



No Holds Bard: Shakespeare Santa Cruz enters into its new season with a heady mix of jealousy, lust and amore.



Night Howl: A recent downtown Santa Cruz artistic statement comes down.



Talking Pictures: Author/screenwriter Amy Ephron slams George Clooney's latest flick.
Cash Crop: Jonah Raskin's pot flick finally hits the big screen.
Poison Envy: Mr. Jealousy tries to imitate Woody.



French Connection: Beausoleil infuses this summer's Fat Fry with a heavy dose of Cajun roots.
Notes From the Underground: The Aptos Club gets rocked, while the Vets Hall's weekend show turns up Ghoul-less.



Fly By Night: Flying the friendly skies of United doesn't include dining well, as we shall discover in a culinary debacle at 40,000 feet.