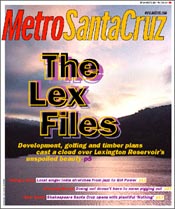 For the Week of
July 30-Aug. 5, 1998
Cover: The Lex Files
Development, golfing and timber plans cast a cloud over Lexington Reservoir's unspoiled beauty.



Hot-Weather Happenings: A complete guide to this summer's cultural, recreational and phantasmagorical fun.



Taking a Diva: Local singer India Velasquez stretches from jazz to Girl Power.
Notes From the Underground: Skateboarding, music and shtick get a glance in local zine.



Full Mooning: Even Elisabeth Shue can't save vulgarized Balzac adaptation.
Vahina, Vahina: Marie Baie des Anges is a searing exposé of Vespa gangs on the French Riviera and a Gypsy girl who could not be tamed.



Ado Anew: Shakespeare Santa Cruz opens with plentiful Nothing.



Groaning Bored: Dining out doesn't have to mean pigging out.