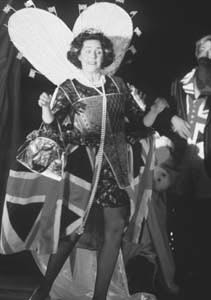 Wing Dang Doodle: Amy Thone schemes her way through 'Cymbeline.'




Photograph by Amy Thone


Stage to Deceive

All the characters are putting on a show in clever Shakespeare Santa Cruz's 'Cymbeline'

By Heather Zimmerman

IT MAY BE A PHRASE from another Shakespearean work, but director Danny Scheie's production of the Bard's Cymbeline takes to heart the observation that "all the world's a stage." Scheie, a former artistic director of Shakespeare Santa Cruz, returns to helm a highly entertaining production that culls humor--and lots of it--from a central theme of the play: appearances are often deceiving.

The plot of Cymbeline offers all the complicated drama of a true epic. And, accordingly, the entire world of the King of Britain, Cymbeline (Gary Armagnac), is literally one big show. In Cymbeline's court, everyone is putting on quite the performance, in particular, the Queen (Amy Thone), who despite her doting on Cymbeline, definitely did not marry him for love, and Cloten (Liam Vincent), her son from a previous marriage, for whom the Queen is angling to usurp the throne, in part by suggesting that he marry Cymbeline's daughter, Imogen (Susannah Schulman).

But Imogen has already married a commoner, Posthumus (Hans Altwies), whom the King, in angry retaliation, has banished; the separated newlyweds communicate secretly with the help of Posthumus' loyal servant Pisanio (Richard Robichaux). Even these devoted lovers become estranged, thanks to a resourceful lie by an Italian nobleman, Iachimo (Andy Murray), who drums up false evidence that he seduced Imogen, in order to win a bet with Posthumus.

This production is self-consciously stagy--in its performances and, literally, in its design. Andrew Lieberman's set is outfitted much like a traditional stage, with a bright red curtain that runs the length of the stage, flanking an ornate proscenium arch that frames most of the action. Televisions mounted atop the curtains show graphics that act as backdrops for scenes and provide narration with video clips and voice-overs. Though equally showy, B. Modern's costumes ably complement the characters' personalities without upstaging them.

Scheie stages Cymbeline with high theatrics, and the effect of such deliberate showmanship is surprisingly winning; in fact, it's perfect for a play in which the characters, on some level, are all simultaneously deceiving and being deceived. The performances are carefully self-conscious: after all, even the characters themselves are "acting," for each other and for the audience. Scheie plays up this fact by highlighting all the asides in the dialogue, heralding them with the "magical" chime from the TV show Bewitched, and freezing all other action onstage when a character speaks to the audience.

But this production skillfully balances such outward jokiness with deeper feeling. Schulman has perhaps the emotionally richest role with the character of Imogen, and she captures every facet, from boundless joy to utter anguish at betrayal. Altwies plays Posthumus likably, if somewhat an easy mark--and prone to extremely bad judgment in that regard. In the somewhat limited title role, Armagnac capably conveys a formerly wise ruler who has become enfeebled, both physically and mentally, simply by being too susceptible to vanity.

Nevertheless, this Cymbeline is not much of a cautionary tale--it seems much more to be a giddy celebration of humanity, both its good and bad aspects. Adding such deliberate spectacle to Cymbeline actually strips it down from a labyrinthine tale of deceit in a king's court to a plain old fable of human fallibility, by pointing out--and skewering--our passion for appearances. As the TVs perched atop the set hint, when it comes to the great human drama, we all like to watch. This Cymbeline urges us to watch and laugh at ourselves.
---
Cymbeline plays in repertory through Aug. 27 at Shakespeare Santa Cruz in the Festival Glen, Performing Arts Center, UC&-Santa Cruz. Tickets are $19&-$32. (831.459.2159 or http://shakespearesantacruz.org)
---
[ Santa Cruz | MetroActive Central | Archives ]