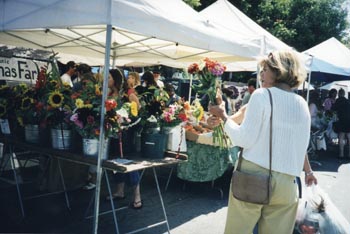 Market Strategy: After 11 years, the Santa Cruz Farmers Market struggles to balance its mission to help small growers with its goal of providing choices to its organics-friendly customers.




Less Isn't More

The Santa Cruz Farmers Market struggles to balance small and large growers' supplies with customer demand

By John Yewell

ON THE EVE OF ELECTIONS for a new board of directors, the Santa Cruz Farmers Market finds itself with a tough row to hoe. A dispute has broken out pitting the interests of larger growers against smaller operations over what is best for the market--and the people who shop there.

Katherine Foster and her husband, Phil, farm some 250 acres of certified organic produce, mostly in San Juan Bautista, on a small bit they lease east of Hollister. Sizewise, they're pikers by Midwestern standards, but, pitted against many local commodity producers who sell their products in Santa Cruz on Wednesday afternoons--some of whom till fewer than five acres--they are the moral equivalent of Cargill, the world's largest privately held agribiz.

To the Fosters, that's no excuse for what happened to them. "I feel like I've been treated like a pariah--or the tobacco industry," says Katherine Foster. "Just because you're a 'big' farmer shouldn't excuse them from the way they've treated us."

Everybody Bok Choy Tonight

FOSTER IS REFERRING to a letter she received at their Pinnacle Farms operation June 10. At a meeting five days before, the Farmers Market board had restricted Pinnacle to selling four items--news that arrived just two days before the June 12 market. The board's bylaws give it the power to regulate availability in this manner in order to ensure that small operations are not overwhelmed by larger producers.

The problem, says Foster, is that on such short notice three of the four items she was restricted to selling--corn, celery and melons--were unavailable. Only the fourth item, fennel, was ready for market. Suddenly, a stand that had been able to provide some 20 different products at various times found itself able to offer its customers a single herb.

Foster says she checked the market that day and found four stands selling fennel. Meanwhile, there was no bok choy at the market at all, although Pinnacle could have provided it had it been allowed.

"One of the upsetting things was, they didn't seem to be familiar with what was on our application, didn't look to see what the market had or what we were bringing. They just made a decision." Although the board later relented and allowed the Fosters to sell a half dozen additional foods, the decision cost her about $1,000 in June 12 sales.

The market maintains approved commodities lists from each grower and designates who can bring what each week. The problem is that determining what products will be available and from whom is difficult--and results in decisions being made without certainty about what will actually be available.

"We're trying to make available a variety of products that customers can choose from," explains manager Lea Goodman. "We are trying to make it equitable."

Unfortunately, she acknowledges, the Fosters felt they were treated inequitably. "If they feel they were treated badly, they have my sincerest apologies," Goodman says. She says the Farmers Market board is attempting to fine-tune the system to balance the supplies and demands of big growers, small growers and consumers alike, so that growers each have a fair share of the market and consumers have the broadest possible choice.

"We're in the process of revising the system, and we have some issues to work on," Goodman assures. But real-time assessment of commodity availability will be "very difficult," Goodman says, and will require a lot of cooperation. Mother Nature can be unpredictable, after all. "We have to get the growers to cooperate and tell us where they are," she says.

That's fine with her, Foster says.

"They're trying to make it where small farmers have an outlet," Foster continues. "I agree with that. But I feel in some instances they've limited the selection to the point where it doesn't serve customers at all. If someone else says he isn't going to bring cauliflower that week, we'd like to bring it. They say we're going to have a system like that, which would be fair."

However the kinks get worked out, protection of small farmers remains paramount. "A small farmer's only outlet may be the Farmers Market," Goodman reminds. Pinnacle Farms, by comparison, participates in five farmers markets a week, selling 10 to 20 percent of its commodities there. Some 50 percent goes directly to retailers, like New Leaf Markets, with the remainder sold through a broker in Montana.

Foster, a candidate for the Farmers Market board, says she isn't just concerned about Pinnacle Farms, but also that customers' points of view be heard.

"Santa Cruz customers are as good as you'd want to have anywhere," Foster says. "They're loyal, support things well and are determined to buy organic."
---
The results of the latest board election will be announced Aug. 7. The meeting runs from 5pm to 7pm at the Louden Nelson Center and is open to the public.
---
[ Santa Cruz | MetroActive Central | Archives ]