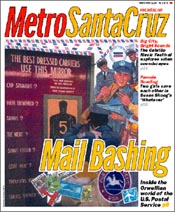 For the Week of
August 6-12, 1998
Cover: Mail Bashing
Inside the Orwellian world of the U.S. Postal Service.



Hot-Weather Happenings: A complete guide to this summer's cultural, recreational and phantasmagorical fun.



Big City, Bright Sounds: The annual Cabrillo Music Festival explores urban soundscapes.
Notes From the Underground: Spaceboy takes rock & roll into the next dimension.
Audiophile: Reviews of the latest CDs by Orquesta Gitano, Exploding Crustaceans, Sharon Bousquet and Crawdaddy.



Female Bonding: Two girls save each other in Susan Skoog's Whatever.



Double-Edged Drama: Deception abounds with Shakespeare Santa Cruz's handsomely mounted production of Othello.



Heavenly Daze: A contemporary grill with a view, the new cocktail restaurant offers gorgeous visuals with its fun bar food.