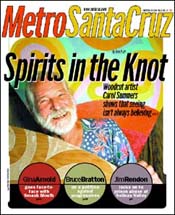 For the Week of
August 18-25, 1999
Cover: Spirits In The Knot
Woodcut artist Carol Summers shows that seeing isn't always believing.
News: Lockdown Drag Out
Family members of prisoners at Salinas Valley State Prison think the protracted state of emergency there poses more of a threat to prison security than the violent event that triggered it.



Bruce Bratton: A petition against progressives.



Mission of Mercy: The closing Cabrillo Music Festival program takes an emotional toll.
Smash and Learn: After embarking on a mission to prove its critics wrong, Smash Mouth succeeded.
Notes From the Underground: Herbert and company deliver a punishing Vets Hall show.



Tyrolean Fling: A Ben Lomond landmark reinvents itself-- but not too much-- and the hills are still alive with the aromas of wurst and beer.
Sushi Central: Two brand-new eateries make Japanese food the catch of the day on the Mall.



Shock City: 'Detroit Rock City,' a contrived tribute to '70s rockers Kiss, goes for the gross every time.