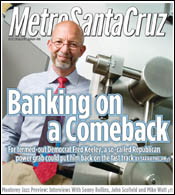 For the Week of
September 14-21, 2005
Cover Story: Banking on a Comeback:
For termed-out Democrat Fred Keeley, a so-called Republican power grab could put him back on the fast track.
Nüz: Watsonville Fish Kill; Santa Cruz Cow Roast.



Rev: Open Only in Case Of Emergency: I'm stockpiling food and water. I'm taking survivalist training. I'm preparing to be able to do anything in order to survive.



Guardian Angel: James M. Cain meets Frank Tashlin in 'El Crimen Perfecto,' a feverish comedy about murder.
Bad Re-Education: Balzac, Flaubert and Communism collide in 'Little Chinese Seamstress.'



Body and Soul: The Monterey Jazz Festival returns with three generations of talent and creativity.
All Born to Die: Nevada Backwards look on the sunny side of life.
The Rock Show: Sizzla protesters; Garbage; Bill Tapia.



Things That Go Thud In the Night: Terry Pratchett's 'Thud!' takes aim directly at your brain.



A Name Full of Flavor: Thai Basil is the perfect payoff for a journey into the heart of Capitola Village.
Copyright © Metro Publishing Inc. Maintained by Boulevards New Media.