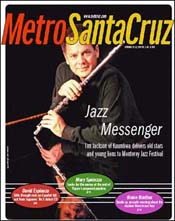 For the Week of
September 15-22, 1999
Cover: Action Jackson
Kuumbwa director Tim Jackson delivers old stars and young lions to the Monterey Jazz Festival.
News: Water Tortured
With talk of a Pajaro Valley water emergency, the water management agency is beefing up conservation programs. But skeptics say the effort is just a way to push for water imports.



Rumination Fever: The Santa Cruz County Fair maintains a tradition that stretches back to the Middle Ages.
Bruce Bratton: An early warning about the nuclear Navy in our bay.



In the Van Vanguard: The comandantes jefes of Cuban dance music, Los Van Van, bring the salsa revolution to Palookaville.
Blue Mystery: Rock en español sensations Jaguares prowl into the Catalyst.
Notes From the Underground: The Applicators shimmy and shake with manic vocals and gritty guitar lines.



Bella Bella: Southern Italian warmth meets the fresh foods of California and the results converge at Bella Napoli.
A La Carte: Charlie Deal, the man behind Charlie Hong Kong, plans a new eatery in Felton.



Food for Thought: Paris yuppies eat crow for 'Dinner.'
Belgrade Blast: 'Cabaret Balkan' looks at Belgrade life after the war and before the bombing.