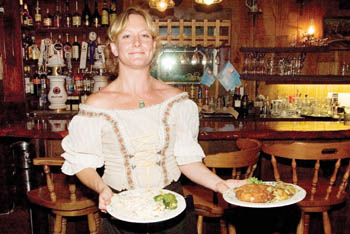 Save Room for Strudel: Melody Korkos serves up hearty helpings of German comfort food at the Tyrolean Inn.

Comfort Kitsch

Nestled in the redwoods of Ben Lomond, every day is Oktoberfest at the Tyrolean Inn

By Selene Latigo

I was raised by folk dancers. Growing up in Solvang, the "Danish capital of America," this was practically the norm, regardless of one's actual lineage. I used to love dressing up in full Danish maiden garb, spinning and twirling to the upbeat tunes in the Danish Days parade. Of course, later, full of teenage angst and embarrassment, I completely abandoned this once joyful hobby, finding my friends more amusing than my ridiculous polka-ing parents. Now that I'm past that, I often reminisce about all of the steps I knew like the back of my hand, and I think that learning about the wide range of international dances, from Romanian to German to Egyptian, played a role in opening my eyes to the world.

Visiting the Tyrolean Inn in Ben Lomond taps into my fond folk dancing memories, complete with traditionally costumed servers, antique beer steins, quaint country cottages and cheerful music, not to mention the real reason we go—the great food. On Sunday Dave and I decided to check out Tyrolean's brunch menu and headed up with a couple of friends, Andrew and Leigh.

Walking through the cozy front dining room, passing the main bar, we descended into the larger and more casual atrium. The Inn is nestled among monstrous redwood trees, one of which grows up through the atrium and is surrounded by checkered tablecloths, trophy animal heads, Christmas lights and plastic pine boughs. Another smaller bar sits in this room, and with so much beer on tap I can easily imagine the celebrations in such a festive space.

We took our time looking over the menu, enjoying the kitsch and deciphering our German-titled options over coffee and, for Dave, a pint of the Marzen Oktoberfest ($5), just one of nearly a dozen German beers on tap. We finally ordered from the several egg, sandwich, entree, side dish and dessert options offered on the brunch menu.

Dave appropriately went for the classic Wienerschnitzel ($11.50). The two large breaded veal cutlets were thinly pounded and tender, with a side of the savory roasted potato, onion, bell pepper combo that came with almost every dish. The menu stated that Dave's selection would have a salad accompaniment, but none arrived.

I couldn't resist all of the tempting sides, so I pieced together a meal of red cabbage ($4.50), poached eggs ($2.50) and the Kartoffelpuffer ($5.25), two very crispy, deep golden fried potato pancakes with sweet applesauce counterbalancing the salty grease. My eggs were cooked perfectly over-medium, and the red cabbage was a creamy, sweet and tangy blend of deep purple.

Unfortunately, Leigh's Lachs Benedict ($8.95) arrived cold with the salmon tasting not quite right. But our server gracefully took it back and quickly replaced it with Leigh's second choice, the Eggs Blackstone, which turned out to be a success. This version of eggs benedict had thick slices of tomato instead of ham and salty chopped bacon covering the hollandaise-sauced eggs.

Andrew's dish was the winner of the table. A thin slice of farmer's bread bore the weight of creamed spinach, slabs of juicy tomato, two poached eggs and ribbons of crisp bacon, all drenched in paprika-dusted hollandaise. The skillfully combined layers of color, flavor and texture won him over completely.

We all knew that we had to sample one of Tyrolean's famous desserts but grappled between the apple strudel and the hot apple pancakes. Our server, overhearing this dilemma, told us not only that the pancakes were her favorite but also that our dessert would be complimentary due to Leigh's sent-back dish, which smoothly settled the matter. The Heife Apfelkuchle ($6.95) were two sturdy horizontal cuts of apple, lightly battered and deep-fried like a donut, then generously covered with cinnamon sugar. The grainy sweet coating went well with the warm and comforting apple center, all dipped in whipped cream.

Satiated and relaxed, we lingered for a bit before heading out the door into the sun-speckled woods. I treasure the Tyrolean Inn's magic and all that it offers: great German food, entertaining ambience and an altogether not-to-be missed dining experience.
---
Tyrolean Inn
Address: 9600 Highway 9, Ben Lomond
Phone: 831.336.5188
Hours: 5–9pm Tue–Thu, 4–10pm Fri–Sat, 10am–9pm Sun
Price: $5–$25
---
[ Santa Cruz | Metroactive Central | Archives ]