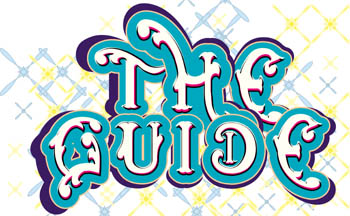 A compendium of practical advice on how to make the wheels of life spin a little more easily
Only in Santa Cruz: A modest celebration of municipal self-love.
South Pacific Rim: SlugFest returns after a decade's hiatus.
Lend a Hand: Reaching out after 9-11.
Find the Right Roommate: Home is where housemates are.
Make Your Head Glow: Sage advice for neon locks.
Make Your Trash Bloom: Worms can make the most out of compost.
Cheap Eats: A food critic's guide to budget meals for students and people with student budgets.
Stop the Viagra Ads, Please! Putting the Kibosh on spam.
Words
Bruce Bratton,
Michael S. Gant,
Will Harper,
Tai Moses,
Mary Spicuzza,
Hiya Swanhuyser,
Christina Waters
Design & Production
Shannon Stillman
Nichole Pejack
[ Santa Cruz | Metroactive Central | Archives ]