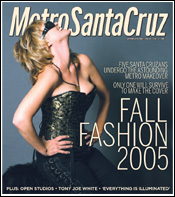 For the Week of
September 28-October 5, 2005
Cover Story: Fall Fashion 2005:
Five Santa Cruzans undergo the astounding Metro makeover. Only one will survive to make the cover.
Nüz: Confessions of a Dangerous Mime Troupe; Rocket Science; Full Disclosure.



Rev: Berzerkley: Now, Berkeley has announced that it is following the Kyoto Protocol to reduce greenhouse emissions.



Open for Artistry: Open Studios returns to the county for the 20th year in a row with eyes facing forward.



Forever Amber: Frodo goes on a quirky odyssey to the Old Country in 'Everything Is Illuminated.'



Reigning All Over the World: Swampmeister Tony Joe White on 'Rainy Night in Memphis,' German techno and his high-profile heroines.
In Fine Fettle: Santa Cruz County Symphony serves up motorized minimalism and Mozartian moods.
The Rock Show: Radiohead Meets Shostakovich; Canyon Palooza; Henfling's.



Pets or Meat?: Santa Cruz takes a leading role in the chicken rescue movement.
Copyright © Metro Publishing Inc. Maintained by Boulevards New Media.