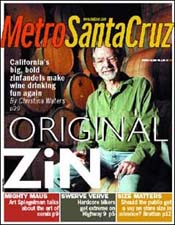 For the Week of
October 6-13, 1999
Cover: Original Zin
California's big, bold zinfandels make wine drinking fun again.
News: Swerve Verve
Local motorcyclists test their metal on Highway 9.



Bruce Bratton: Should the public get a say on store size in advance?



On the Fritz: Surfing the '50s for images, Don Fritz adds his personal spin to a new show at the San Jose Museum of Art.



Sights and Sounds: Trip-hop pioneer Tricky foregoes dreamy synths to rock hard at the Catalyst.
Notes From the Underground: Top-of-the-heap local punks call it quits after rocking SC for most of the '90s.



Mighty Maus: Art Spiegelman took comics from the underground to the museums.



A La Carte: The chrome shines brilliantly at the remade Denny's.



Bad Monkey: A cozy country life can't live up to a dark and dangerous past in 'B. Monkey.'
Boiling Down Sex: Boredom is the price to pay for mild titillation in scandalous 'Romance.'



Please don't forget to write! Metro Santa Cruz welcomes letters. Like any great work of art, they should be originals -- not copies of letters sent elsewhere. Include address and daytime phone (for verification purposes only). Letters may be edited for length and clarity or to correct factual inaccuracies known to us. Postal: Metro Santa Cruz Letters, 111 Union St., Santa Cruz, CA 95060. Fax: 831/457-5828. Email: . Emailers, please include name, city of residence and phone number. Letters printed will list email address unless otherwise specified. Letters to the editor are not currently published in the online version of this paper.