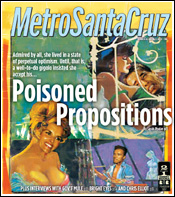 For the Week of
October 19-26, 2005
Cover Story: Proposition Me, Why Doncha?:
If there's one thing Gov. Schwarzenegger has done, it's unite working folk in the fight of their political lives.
Nüz: Venetian Water Carnival Revival; And the Winner Is ...; Access Granted; Planetary Mary.



Rev: Grease Girl: Spreading like an alternative-fuels wildfire, straight vegetable oil (SVO) finally caught me in its flames, and I'm loving it.



Alison in Blunderland: Atom Egoyan's 'Where the Truth Lies' explains the splitting of Martin and Lewis for the very credulous.
Scoundrel Time: 'Good Night, and Good Luck' re-creates the story of how Edward R. Murrow gave McCarthy the boot.



The Best and the Bright Eyes: Conor Oberst and company won't let success keep them from experimenting.
Gov't Mule Variations: Try as it may, fate can't moe. down the mule.
The Rock Show: Cake; Plena Libre.



The Da Vinci Cod: Chris Elliot gets a life as, of all things, a novelist.



Diminutive Name, Sizable Flavor: Lil India serves up a bounty of subcontinental specialties in South County.
Copyright © Metro Publishing Inc. Maintained by Boulevards New Media.