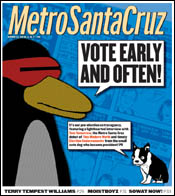 For the Week of
November 2-9, 2005
Cover Story: Vote Early and Often!:
It's our pre-election extravaganza, featuring a lighthearted interview with Tom Tomorrow and the Metro Santa Cruz debut of 'This Modern World' and timely election endorsements from the small cute dog who became president!
Nüz: Ready to Roll; Better Late Than Never?; Proverbial You; 1,174 Days and Counting.



Rev: Terra Pass then takes the money you submit and invests it in projects that will reduce global warming.



SoWat if They're Stars?: Local media celebs Chip and Kirby's master plan starts with the SCICA's festival of contemporary performance.



Counter Intelligence: A rich guy and a poor guy contend for a lovely 'Shopgirl,' as they have since movies were invented.



Order From Chaos: The Moistboyz are America's premier dirt rockers, a self-identified genre infused with profanity, distortion and more than a healthy dash of paranoia.
The Rock Show: Sleepytime Gorilla Museum; Sayre; John Scofield.



From the Pit of Despair, a Voice of Hope: Author and activist Terry Tempest Williams returns from Rwanda with a vision of despair and a message of hope.



Soba, So Good: Donbo Udon shows promise as downtown's latest entry into the realm of Asian cuisine.
Copyright © Metro Publishing Inc. Maintained by Boulevards New Media.