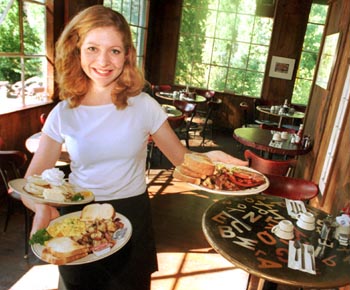 Photograph by George Sakkestad

Hearty Helpings: Azalea Rees shows off some of the breakfast offerings at Rocky's.

Mountain Rocky's

Familiar Dale's Diner in the San Lorenzo Valley is now reopened as Rocky's Cafe

By Janet Blaser

ROCKY'S CAFE in Felton, set in a big, rambling creekside house built in the 1920s, crackles with old-fashioned charm. A wide, windowed porch stretches along two sides, facing the San Lorenzo River out the back--which at this point in its journey is a much wilder body of water than city dwellers might recognize. Two small, joined dining areas inside are flanked by an open kitchen, buoyed by a stone fireplace in one room that makes your meal even better.

For years, as Dale's Diner, the cafe catered to the local breakfast and lunch crowds, riding on laurels of hearty helpings of "regular" food, reasonable prices, casual surroundings and word-of-mouth recommendations. Even now it is "the" place to go on weekend mornings up in the valley, especially as its kid-friendly policy encourages families to bring 'em along. (Seating outside on the veranda helps, too, if you've got a climber or rambunctious one in your brood.) Owner Christine Patracuola literally grew up in this house; now you'll find her adult self running the show--playing host, waitress and everything else as needed. Like a daytime version of Cheers, she seems to know everybody, and everybody is glad to see her.

A board propped against the counter touts a handful of daily specials, often including banana pancakes or a deal on one of the two-egg breakfasts; otherwise, a small but ample menu lists choices of basic breakfast and lunch fare. Coming from "the big city" of Santa Cruz, though, Rocky's can seem just a tad too funky for comfort. There is, after all, a very fine line between rustic and broken, between old world and just plain old. I have to say, it could do with a once-over from an experienced manager's fine-tooth comb and a little more heat on cold days. And what's with the disposable plastic cups for water? More importantly, why $6.10 for a basic two-egg breakfast? The normal reasons for unusually high prices--organic ingredients, superior service or ultrachic décor--are not part of the formula here, so I was confused by the pricing structure. Rocky's Cafe is at 6560 Highway 9, Felton; hours are Tuesday-Sunday, 7:30am-2:30pm. Call 335.4637 for more info.

Fish Tale

I have been informed by a reliable source that the hanging fish at Laurel and Cedar streets that I wrote about recently is a jacksmelt. Eight-year-old Brighton Denevan, son of Chef Jim Denevan of Gabriella Cafe, wins the prize. His father's suggestion for a recipe contest, though, involving both sneaker and fish ("exhaust-cured jacksmelt with converse essence, over wilted crack-grown dandelion") might be best left untried.

Shadowbrook has officially begun its seasonal practice of Community Tuesday Fundraisers, which fill the gray winter months with at least one excuse to wine and dine in style and also spread goodwill. The restaurant donates a third of the proceeds from these nights to local nonprofit groups, an assortment of educational, arts and social services organizations; last year's total was more than $20,000, distributed among 16 different groups. All you have to do is mention Community Tuesday when you call for reservations on any of these special nights (basically every Tuesday excluding holiday weeks until the end of February). Groups benefiting include Friends of Hospice, Nov. 14; Redman House children's placement service, Dec. 19; Kuumbwa Jazz Center, Jan. 30; and Habitat for Humanity, Feb. 6. A full list can be found online at www.shadowbrook-capitola.com; for details, call 475.1511.
---
Got a food tip or restaurant news? Email [email protected] and tell Janet.
---
[ Santa Cruz | MetroActive Central | Archives ]