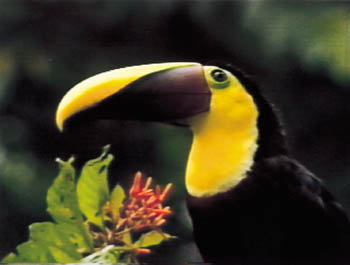 Top Billing: A toucan is one of the many natural wonders featured in 'The Natural Connection.'

Video Visions

Community TV's EarthVision 2000 looks at the Earth through dedicated lenses

By Hiya Swanhauser

KATHERINE KNIGHT and Michelle Martinez are thinking globally about their EarthVision 2000 Environmental Film and Video Festival and Competition. They have received documentaries from India, Europe, Canada, Nicaragua and the Philippines, including several that have qualified for Academy Award nominations.

The EarthVision coordinators are also acting locally: several fine local productions will grace the screenings, including Personal Rapid Transit, excerpted from Community Television's own Voices From the Village. The films vary in production value and appeal, but on the whole, they balance ugly facts with beautiful scenery.

Bringing Back the Salmon, for example, gets its job done with a minimum of fuss. Plain math says the Snake River is in trouble, and the film offers some suggestions about how to remedy the situation.

In Motor, a wonderful but too-long screed against off-road vehicles, it's just the opposite: torn-up scenery abuts breathtaking facts. Case in point: the pollution, says the narrator, put out by an automobile in its entire lifetime is equal to that exhaled in two hours by a Jetski. Wince-inducing images of rednecks zooming around a lake appear onscreen.

Some of the entries, however, even the winners, fall flat. Honey Hunters of the Blue Mountains, in addition to its unwieldy title, is easily recognizable to critical viewers as overly patronizing. Although it purports to represent an interesting group of people living in a remote area of India, the film allows its subjects not a single word of their own. The filmmakers use clichéd nature imagery to associate the tribe with frogs and bugs, and repeatedly demean the tribal "way of life." The narrator asserts that they are "one with nature," and makes sweeping generalizations about their "ancient rituals," which include plastic bags.

The Natural Connection, on the other hand, is just what one might expect: like a great nature show on TV, only longer. Eye-popping images of trees and animals alternate with friendly men talking about the wonders of nature. One of them, the charming, silver-haired Edward O. Wilson, points out bemusedly that there is as much ant on Earth as there is human.

The Pulitzer Prize-winning ant expert explains that although the arthropods are tiny, there are one million times as many of them as there are of us. Cut to a pretty picture of ants carrying leaves along a pastoral trail. Makes you think.

As environmentalism has grown ever more popular, the festival has grown, too. The television station's new, spacious studio is a suitable venue to welcome the dignified entries this year, and the fancy equipment (web video, digital editing suite, underwater video) on display will show how well the station is keeping up with the high-tech Joneses. The festival now boasts a detailed website (www.communitytv.org), and this year, organizers have added a new award: Best Activist-Oriented Video. EarthVision 2000 promises to be a perfectly Santa Cruz event--arty, nature-loving and smart. Look out, polluters.
---
EarthVision 2000 Environmental Film & Video Festival takes place Nov. 11-14 at Community Television of Santa Cruz County, 816 Pacific Ave., Santa Cruz. The event begins on Nov. 11 with a Producers' Party. Admission to screenings is $4. (425.8848, ext. 317)
---
[ Santa Cruz | MetroActive Central | Archives ]