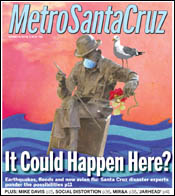 For the Week of
November 9-16, 2005
Cover Story: It Could Happen Here?:
Earthquakes, floods and now avian flu: Santa Cruz disaster experts ponder the possibilities.
Nüz: Nüz Goes to Washington; I Am Sam; We Are the Champions; Workers of the World.



Rev: Nice Plates: It takes three prisoners to make one plate—one to unfurl the aluminum spool, another to place the film on the plate and a third to do the stamping.



Knotty Questions: 'Place of No Escape' uses ropes and tires to explore creative solutions to gang violence.



Burning Men: Jake Gyllenhaal stars as neither an officer nor a gentleman in 'Jarhead,' a story about the Gulf War.
Defective Story: Shane Black pays ingratiating homage to Raymond Chandler in 'Kiss Kiss, Bang Bang.'



Distort Yourself: Carrying on after the death of a lifelong friend and band mate, Social Distortion's Mike Ness discovers another state of mind.
Not Your Mama's Marching Band: Even after 10 years together, Drums and Tuba is still striving to perfect its sound. Results thus far have been inspiring.
The Rock Show: Mos Def; Lacy J. Dalton; Tom Brosseau.



In Praise of Lunch: Whether you're escaping work or bringing it with you, Rebecca's is a treat for daytime dining.
Copyright © Metro Publishing Inc. Maintained by Boulevards New Media.