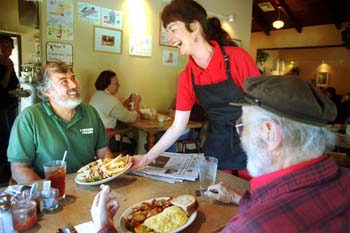 Photograph by George Sakkestad

Silver Lining: The Silver Spur attracts a large and lively breakfast crowd.

Where Eat Meets West

Build a better breakfast, and folks will flock to your doorstep, just as they do each morning at the Silver Spur

By Christina Waters

WHO COULDN'T COZY UP to an old-fashioned diner called the Silver Spur? Possibly only some weasel capable of tampering with election results. The old landmark cabin midway between Santa Cruz and Soquel was doing business of NASDAQ proportions the other morning when we squeezed into the parking lot at Mattison Lane and Soquel Drive.

Just in case the name doesn't stick to those early-morning brain cells, the Spur reinforces its theme with a wagon wheel hanging on one wall--right over the well-worn green booths. A gallery of colorful children's drawings of boots and spurs lines the opposite wall. Morning light streamed in through the big picture windows, and we were ready for calories.

Loaded with captain's chairs and endless pours of coffee, the Silver Spur is truly a masculine comfort zone. It resembles a den crossed with a ranch house--designed by someone who grew up reading Popular Mechanics. But there are a few feminine touches: waitresses who make sure you're happy with your order, and four astonishingly healthy botanical "chandeliers" hanging down vibrantly from the hardwood ceiling.

Our booth came equipped with views of Soquel Drive and a container of zippy salsa. "Coffee?" Yes, we nodded in unison. And magically, our Silver Spur mugs were filled with coffee far better than usually encountered in any '50s diner. Lots of post-workout couples, surfers, students--plus a lineup of retirees reading the morning paper cover to cover--fill Silver Spur six mornings a week starting at 6am.

They come for special goodies, like ginger French toast or calamari and eggs. We came for the kind of breakfasts nobody can make at home. And that's just what we got.

Jack couldn't resist the Flying Sombrero ($5.75), filled with all the food groups men have loved since the very first Cro-Magnon barbecue. Promising those south-of-the-border flavors that wake up all the appetites, this two-fisted breakfast was good-looking, hot and steaming--and tasted like morning on a Mexican beach. Black beans filled with earthiness and laced with melted cheese held down one end of this creation, while two perfect poached eggs rode a soft carpet of corn tortillas through a bayou of rich, tomatoey ranchero sauce. Every bite yielded up thick yolk--Silver Spur's eggs were the size of all outdoors with noticeably huge yolks--and the creaminess of more melting cheese.

Accompanying the delicious beans, eggs and sauce were a fist full of sour cream (metaphorically speaking, of course) and half a ripe avocado sliced into easy-access segments. "This is a perfect avocado," Jack kept repeating after each bite. I had to agree, but I was otherwise occupied.

Silver Spur takes backseat to no breakfast palace in the pancake department. Pancakes are a serious culinary item, rarely given the respect they deserve. Having expected some fluffy, tasteless cushions of dough, I was pleased by my order of walnut apple pancakes ($4.95)--three high and a mile wide--that arrived with a large scoop of actual butter and a tiny pitcher of syrup.

These were classics, yet not generic. Golden, slightly irregular edges testified as to home-cooked freshness. Soft and moist, the crunchy texture of walnuts and tiny morsels of fresh apple gave each bite distinction and appeal. I managed to finish up half the order--although I could tell that the waitress was distressed about my not having cleaned my plate.

Instead I finished the remaining poached egg that Jack was actually intending to leave uneaten. No one leaves a poached egg--not on my watch! We both smiled our way back to the car--readier than usual to take on the day.
---
Silver Spur
Address: 2650 Soquel Dr., Santa Cruz
Phone: 475.2725
Hours: Breakfast and lunch, 6am-3pm, Tue-Sat. Closed Mon.
Service: *** Fast, friendly and to the point
Ambience: ** 1/2 Great country diner atmosphere
Cuisine: **1/2 Simple, down-home Cal-Americana enhanced with expertise and fresh, clear flavors
Overall: One of the finest breakfast spots in the county, loaded with retro comfort and updated menu attitudes. And the Wild West name is downright irresistible.
---
[ Santa Cruz | MetroActive Central | Archives ]