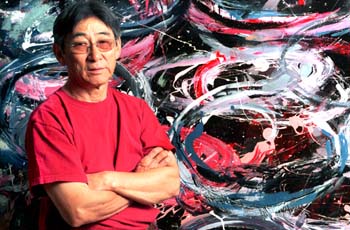 Complex Picture Plane: Howard Ikemoto works in all media and follows his impulse to a host of subjects.

The Teacher's Touch

A distinguished artist in his own right, Howard Ikemoto takes the greatest pride in the art of teaching

By Julia Chiapella

HOWARD IKEMOTO bristles, visibly shudders, at the suggestion that he enjoyed guru status as an art instructor at Cabrillo College. Vehemently opposed to the notion that an instructor would impose his or her will on students, Ikemoto, who retired from Cabrillo last June after 34 years, prefers a different approach, one he illustrates with a story.

Many years ago, Ikemoto had an Iranian student in one of his life drawing classes. When the Ayatollah announced he was leaving Paris to return to Iran, Ikemoto's student said he wanted to go back to Iran. His father was a painter there, and Iran was his history--he wanted to be a part of it.

"I didn't hear from him," Ikemoto says, "and then there was the border war with Iran and Iraq."

Finally, a postcard came, and in a brief message, the former student said he hoped that Ikemoto and his family were fine. He wrote that he was doing a lot of drawing and that the war was giving him plenty of material. "Drawing is the only thing that relaxes me," were his closing words. Ikemoto never heard from him again.

"That guy will never be an artist," Ikemoto says. "But that's the best teaching I ever did."

At once emblematic of Ikemoto's teaching ideal and his own self-effacing style, the story also obliquely hints at what Ikemoto believes is the rock-bottom necessity in any personal relationship: respect. "The beginning point," he says of teaching, "is when you truly respect your students, whatever their capabilities are. That's a good place to start."

Robynn Smith, an art instructor at Monterey Peninsula College, first worked with Ikemoto 10 years ago when she was an adjunct instructor at Cabrillo College. "He was totally revered," she recalls, and "he had almost guru status at times. He hates that, but nonetheless that's his curse."

Smith attests to the value Ikemoto puts on respect: "He's always granted me a kind of respect that's been amazing from the very beginning."

Unerring Eye: Whatever the medium, Howard Ikemoto makes the truth shimmer.

PERHAPS IT IS Ikemoto's humble beginnings that form the cornerstone for his style. One of eight children born to Japanese parents, Ikemoto grew up in Sacramento. His parents did a variety of things to stay afloat--everything from farming to owning a grocery store and running a hotel.
The family spent time in the Tule Lake internment camp during WWII, an experience that Ikemoto captured in paint, earning solo shows in Santa Cruz, Sacramento, Riverside and Redding. But Ikemoto doesn't want to talk about that time or his artwork, which Smith calls "visually and expressively absorbing."
He wants to talk about teaching, something he calls "a very honorable profession and one that's really hard to do right."
Though he began his career at Cabrillo in 1966, he left after two years, disturbed by the Vietnam War, unsettled by the assassination of Martin Luther King. He was 29, and Cabrillo seemed like "a very beautiful enclave. Very comfortable. Very green."
The only problem was that it didn't feel connected to the real world. It was sheltered and unreal. He took a year to travel to Japan, as much a soul-searching trip into his own cultural history as it was a reprieve from the madness of the Vietnam War.
In the United States, he had always experienced himself as decidedly Japanese. He went to Japan to seek his ethnic heritage. What he found was that he was decidedly American. "All of my assumptions and myths about myself were decoded. I felt an unspoken bond to the Japanese culture and the people, but I always knew I was an outsider."
Yearning for the California hills that were so much a part of his experience, Ikemoto returned to California with the realization that it was all right to be comfortable. "I didn't have to walk around in serious angst," he says.
Already married, he also recognized that it would be difficult for him to start a family and not "get serious about the responsibility of that." The first of his two daughters was born not long after he returned from Japan.
In 1970, he returned to teaching at Cabrillo. It has been a career of which Ikemoto is quietly proud. Along with Jim Conlin and Dave McGuire, Ikemoto helped shape the growing art department. But he faced the same dilemma that many artists who are also teachers face: finding the time to devote to his artwork.
AS A CONSEQUENCE, Ikemoto says he spent a lot of time drawing. It was something he could do quickly and without a lot of setup. Ultimately, he added, it became his strength. As he begins to reflect on his teaching career. Ikemoto pauses; it is something he does long and often, as if he resists bringing too many words to the surface too soon, knowing what weight they may carry and how easily they can be misinterpreted.
"My attitude toward teaching," he begins and then pauses for a full minute before continuing, "was no different than my attitude toward selling vegetables. I was supposed to do the best job I could do."
And it seems as though Ikemoto did. Painter and former student Hildy Bernstein would take classes from him for the rest of her life if she could. "He's an incredible gift," she says. "I've talked to many people who've studied with him, and everybody feels the same way. He's exceptional at both teaching and art making, and it's such a rare find that he draws an incredible amount of attention."
What Ikemoto was able to do, it seems, was emphasize the aspects of inquiry and discovery. He firmly believes that programs should be accessible to everyone and not stray from a beginning core program. "That's how we developed the program," he says.
He claims that one of the struggles the department had was maintaining the integrity within the program, an integrity that he claims was challenged by Proposition 13, the 1978 initiative that capped property taxes. Belts were tightened, accountability was stressed.
The result was that morale was affected. "[Teaching] was no longer based on trust and collegiality and professionalism," he says. Still, Ikemoto stayed. As it turned out, he liked teaching, and the changes were gradual enough that he was able to adapt to them.
That doesn't mean he didn't have confrontations with administrators. As Smith notes, "Anybody who's really powerful is going to have people they butt heads with, and I know he can be very stubborn. I'm sure there are people who resent that. He's a strong person. Strong people intimidate other people."
Ikemoto himself says that an adversarial line was drawn between teachers and administrators. What had been a collegial relationship with administrators changed, according to Ikemoto, to one where the "administrators became managers, and the teachers became workers."
Now, everything from registering students to tracking their performance had to be codified and "in a creative field like art it became awfully cumbersome."
BUT DESPITE Ikemoto's concerns then and now about the path education is on, his own experience teaching has been a rich one. He finds working with people fascinating and believes that art, in all its forms, "is one of the last places where people can academically experience the idea of empathy and compassion. It's still a place where people get educated and not just trained."
Cabrillo art instructor Ron Milhoan worked with Ikemoto for 16 years. They also take drives into the backcountry and paint together. Milhoan has kept a close eye on Ikemoto's teaching style and can tout its advantages.
"The key to Howard is he's a good listener, which for a teacher is rare," Milhoan explains. "Students tend to open up when you ask them questions. What I learned from him was, instead of lecturing to students, back away from the ego and ask them what they want."
It's a technique echoed by Bernstein's experience. "He doesn't give you easy solutions," she says. "He gives you a lot of freedom, which doesn't always feel like freedom. It feels like torture sometimes. That's the atmosphere he creates: very expansive."
But that freedom, Bernstein says, doesn't mean Ikemoto isn't exacting. "He's not lightweight. He definitely cracks the whip of his expectations."
But the classroom experience is virtually over for Ikemoto. He's currently teaching one class at the Cabrillo College Watsonville Center. He says it will be his last. After that, he'll continue to paint and follow his new interest: playing the saxophone.
He likes the idea of learning something new, and as his retirement approached and the questions about what he was going to do persisted, he finally proclaimed he was going to learn to play the sax. When the time came, he says, "I had to live up to my own braggadocio." Now he says he spends as much time playing as he does painting.
Curious, humble, interested, Howard Ikemoto leaves a legacy at Cabrillo that can't be replaced. He's been through the school's golden age of growth and possibilities as well as the austere years. With the current phase of building and the surge of new hires, he says there's a new vision and new opportunities for growth and vitality. He's not the least bit concerned that he'll be missed. And he couldn't be; it would be antithetical to his approach to teaching and to life in general. No wonder they called him a guru.
---
Works by Howard Ikemoto can be seen in the exhibition Departures & Arrivals, a group show featuring Ikemoto, Gypsy Ray and Donald Roy Thompson on display at Cabrillo Gallery, Nov. 17-Dec. 15.

Also, an exhibition of work by Ikemoto's students from his current art class at the Watsonville Center of Cabrillo College is on display at the Copybean, 550 Main St., Watsonville, through November.
---
[ Santa Cruz | MetroActive Central | Archives ]