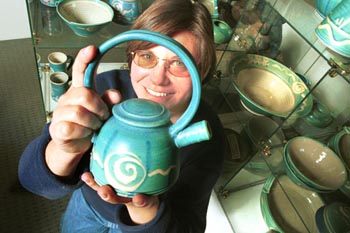 Photograph by George Sakkestad

Handle's Water Music: Ann Schwartz shows off one of her art pots.

Holiday Art Attack

There's enough good art around to choke a ballot box, which is why we suggest a few art gifts that rise above the herd

By Christina Waters

ART--IT'S WHAT'S for Christmas. At least it would be in that proverbial best of all possible worlds. The holiday season is upon us, and with it comes that surprisingly pleasant excuse to roam around aimlessly, looking in shop windows and considering this or that bauble for the people on our holiday gift list.

We'd like to make it all much easier for you by blatantly pointing out that fine art and sensuous handmade craft items have an indelible way of expressing warm wishes. A gift of artwork, especially made by local hands, shows you have the taste to honor your recipient by selecting something that wasn't punched out in a factory.

Brilliant blown glass, one-of-a-kind earrings, pottery that feels good to the touch, imagery that transports--all of these make a statement that outlasts that ill-fitting sweater set or generic gift certificate. Read on, holiday shoppers. The truth is out there--and probably a short drive from your house.

Long ago, a law was passed that Santa Cruz County would be home to more than its fair share of master art-glass creators. (In some regions of Davenport and Bonny Doon, for example, it is possible to drive down almost any mountain road and run down an artist blowing glass in the middle of Empire Grade.)

All that glitters from our finer gallery and handcraft shop windows is often the artisanal work of exceptional glass artists who live and work in our area. Lucky us--we suffer from an embarrassment of riches. I mention this because beautiful glassware always make a memorable gift, and since you-know-what is coming up fast, it's time to move beyond that Hallmark moment.

Lundberg Studios in Davenport specializes in Tiffany-style art glass of mesmerizing iridescence in every possible form. The Davenport location makes a scenic field trip, or you can find Lundberg glass at Many Hands Gallery--one-stop shopping for seriously well-made art jewelry, glass and ceramics.

Many Hands is awash with tiers of wearable artwork by many Santa Cruz artists. The cabochon rings by John Ash, fanciful necklaces by Lynn Guenther and delicate gem-studded fantasies by Musi Hunt are exceptional.

The most exquisite necklaces of the season might just be those by Vallora Sabourin of Flying Lizard Design. Tiny coral and freshwater filigrees, weavings of turquoise, amethyst and jet as intricate as wearable rosaries--they are each spectacular.

Here--and at Capitola's Craft Gallery--you'll find a handsome line of white stoneware pieces by veteran potter Ann Schwartz. Each substantial mug, dish and bowl is emblazoned with a handsome spiral motif. The Venetian-style work of glass artist Peter Vizzusi stands out even in this opulent company. Elegant Murano twists undulate through his fluted vases and bowls in soft, old-fashioned hues of amber, pink and chartreuse.

A block away, at Strini Art Glass, an entire shop is devoted to the art-glass expertise of prolific Rick Strini, one of the longtime glass maestros of the area. Strini's work spans the full potential of blown glass, from art objects to functional everyday (but gorgeous) items.

At Artisan's, the handmade lavender soaps from Bonny Doon Farms might make the world's greatest stocking stuffer, although I would love my stocking stuffed with a silk scarf woven by Anita Dyer. For the last 20 years, Dyer has hand-tinted and then woven silk into lustrous brocade scarves and shawls that rival anything Catherine de Medici might have worn. Rich autumnal tones make her wearable artwork as flattering as it is warm, and more can be selected at The Golden Fleece.

ANOTHER outstanding gallery carrying fine, locally made glass and jewelry items is One Ocean Ave (formerly the Walter White Gallery) in Capitola Village. Out on the Santa Cruz Wharf, Made in Santa Cruz is stocked to the rafters with gusto and crafts of all kinds from local hands.

Here you can find yet more lustre ware by Strini, as well as the whimsical teapots by Michael Lambert, designed like characters from Disney's Fantasia. The singular handcrafted tiles by Bryn del Mano line the wall here, including the haunting and playful El Dia de los Muertos series.

As a fan of exceptional watercolorist Marie Gabrielle, I scooped up a dozen of the Santa Cruz painter's reproduction greeting cards, emblazoned with eloquent coastal panoramas. Carried by almost every fine art shop in the area, the woodcuts, prints, cards and books by graphic artist Tom Killion can be found at Made in Santa Cruz (as well as Bookshop Santa Cruz and the Davenport Cash Store). Killion's "Coast of California" woodcut print series makes an impressive gift in book form for around $40. His matchless views of our coast, referencing the ancient techniques of Japanese masters, are available in a great gift package of 12 note cards.

And this is only a start. Hunt our local galleries and find your own perfect gift.
---
Location Is Everything
Artisan's, 1364 Pacific Ave, SC; 423.8183.
Craft Gallery, 126 San Jose Ave, Capitola; 475.4466.
The Golden Fleece, 303 Potrero St, SC; 426.1425.
Lundberg Studios, 121 Old Coast Rd, Davenport; 423.2532.
Made in Santa Cruz, 57 SC Municipal Wharf; 426.2257.
Many Hands Gallery; 510 Bay Ave, Capitola; 1510 Pacific Ave, Santa Cruz; 429.8696.
Marie Gabrielle, 302 Oxford Way, SC; 423.1613.
One Ocean Avenue, 107 Capitola Ave, Capitola; 476.7001.
Peter Vizzusi, (Magic Sands) 422 Cliff Dr, Aptos; 688.6167.
Strini Art Glass, 103 Locust St, SC.
---
[ Santa Cruz | MetroActive Central | Archives ]