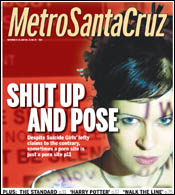 For the Week of
November 16-23, 2005
Cover Story: Shut Up and Pose:
Despite Suicide Girls' lofty claims to the contrary, sometimes a porn site is just a porn site.
Nüz: Guerrilla Rail Trail Mystery; Notes From the Armchair; You Got Served; Creepy Crime; Crow Pie.



Rev: The air bag is, of course, a brilliant invention. Sure, sure, a few kids die every year from suffocating after an air bag discharges--but they shouldn't have been sitting in the front seat anyway.



Ringer Of Fire: Cash is king in sentimental but irresistible biopic of country star with Joaquin Phoenix as the man in black.
Dragon Season: 'Harry Potter and the Goblet of Fire': going whole Hogwarts.



Standard Deviation: America's Radiohead? Roots-rock saviors? The Standard sound like neither, but don't tell critics that.
The Gift: Upcoming performances celebrate the Santa Cruz arrival of two new Steinway grand pianos.
The Rock Show: U2.



Belle of the Ball: More than just a restaurant, Bocci's Cellar is a joyous celebration with food.
Copyright © Metro Publishing Inc. Maintained by Boulevards New Media.