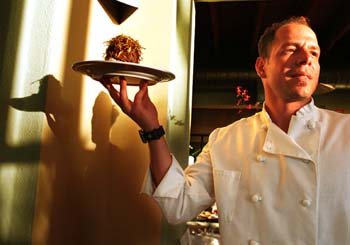 Balancing Act: Executive chef Anthony Dias creates a monument to beef with a steak dressed in fried leeks and a brandy gorgonzola demi-glace.

A Night at the Lido

Capitola's latest dining room is a stylish update on one of its landmarks -- Caffé Lido has new owners and a new menu

By Christina Waters

GLOWING LIKE a ship's lantern in the early evening darkness, the new Caffé Lido definitely looks good. Streamlined and updated by the folks who also own Stockton Bridge Grille, the well-situated restaurant at the end of the Esplanade offers a sleek bar with lots of sexy cocktails to choose from and pretty woodwork to complement the white table linens.

Seated along the far wall, Di and I could survey the action outside and within the split-level dining area, where attractive lighting flatters both food and diners.

From a wine list that includes lots of local wineries--but no dates or vineyard designations--we opted for glasses of the excellent Renwood Zinfandel ($7). It was a 1997, our very helpful waitress found out, and it went beautifully with every dish to follow.

Soft white bread and butter kept us company while we looked over the menu, and we continued to munch as our appetizers arrived. An attractively presented platter of grilled salmon cakes ($9.95) made a great companion for another appetizer, an order of organic baby greens from Riverside Farms topped with freshly grilled, still-warm vegetables ($6.50).

The salmon cakes were thin and freshly flavored--just right when consumed with bites of warm grilled golden zucchini and red bell peppers. But the greens that came with the salmon cakes were devoid of any dressing. A curious thing, because the menu indicated a chipotle-corn salsa accompanied the salmon cakes. Fresh corn kernels and chopped tomatoes slightly perfumed with cilantro were the only trace of the promised salsa. The bountiful salad, however, came with a memorable balsamic vinaigrette--which would have been brilliant over the salmon cakes and salsa-free greens--and both Di and I loved the way the warm vegetables played against the crisp, cool leaves.

Like all good seaside restaurants, Caffé Lido knows its way around seafood, and has created some specialty dishes to go with the scenery. Local albacore tuna is hand-caught by Dave's Albacore, and many gorgeous seafood pasta dishes are available. I would rank the prosciutto-wrapped sea scallops ($15.95) as a destination dish, and Di and I almost fought over the final plump scallop.

Atop a warm, fragrant spinach salad was a nicely arranged tower of grilled vegetables, encircled by tender, moist sea scallops--the huge kind that divide into two or three bites. Each plump morsel de la mer had been encrusted in pepper and tightly wrapped in a transparent ribbon of prosciutto. Salty-sweet and buttery rich, it was a heavenly creation from start to finish. It was also an amazing bargain--I'd paid $13 more for fewer scallops in a Saratoga restaurant several weeks ago.

Another entrée featured a massive broiled French-cut pork chop topping a mound of roasted-garlic mashed potatoes ($13.95, an unbelievable price). A broiled portobello mushroom rounded out the combination of classic flavors, which would have been even better with a more tender cut of pork. The chop was sauced with a well-made rosemary-infused demi-glace, and both dishes displayed the management's devotion to very fresh, clear flavors presented with a minimum of fuss and trickery.

In a burst of millennial joie de vivre, we ordered a glass of Sandeman's 20-year Port ($12) to share, along with two excellent desserts. "Is the NFL going to join us?" Di wondered, when she saw the size of the Lido's bread pudding ($5.50). Four large squares of very moist breading, laced with walnuts and dried fruits, arrived sauced with warm caramel and topped with whipped cream. We just smiled and smiled. Really excellent stuff. A decadent slice of chocolate mousse pie had been laced with fresh raspberry puree and served in a chocolate cookie crust--ungodly rich, yet not too sweet ($5.75).

A night at the Lido is a good idea.
---
Caffé Lido
Address: 110 Monterey Ave., Capitola
Phone: 831.475.6544
Entrees: Moderate
Service: ** 1/2 Helpful and friendly.
Ambiance: *** Cozy and contemporary, with generous table placement, a pretty bar and great beachfront views.
Cuisine: ** Some nice seafood specialties here and impeccably fresh ingredients.
Overall: Caffé Lido's new look bodes well for its future on the scenic Capitola Esplanade.
---
[ Santa Cruz | MetroActive Central | Archives ]