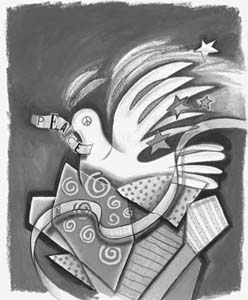 Out Of the Closet
Our Clutterless Gift Guide: eye-opening presents that will never collect dust
By
'OH," GOES the age-old saying, "you shouldn't have." Every Christmas the cry is heard, rising above the rowdy cacophony of ripping wrapping paper and children wailing that they've run out of things to open. "Oh," a large percentage of us mumble, remark, intone and pronounce, "you shouldn't have."
Loosely translated, this quaint five-syllable seasonal utterance means this: "Oh, you shouldn't have." As in "I sure do appreciate the thought, but hey, let's face it: most of the stuff people give each other at Christmas only ends up cluttering the place until I stick it in the closet in anticipation of next spring's neighborhood yard sale. The wrapping job is nice, though, but heck, it's kinda too bad that a tree had to die to wrap a well-intentioned but useless, space-consuming thingamajig like this."
In other words: "You shouldn't have."
Perhaps what is required is a revolutionary retreat from the popular notion that all Christmas gifts must actually exist. The road has been paved with such gift-substitution niceties as gift certificates and donations to your favorite charity and adopt-a-wombat programs. Even those cute virtual gifts--you get an email directing you to a web address where a picture of a present waits for you to click on it and unveil the friendly personalized note within--are a step in the right direction.
Sure, they're more or less worthless, but hey! They take up no space!
In addition to the aforementioned, we proudly offer a short list of extremely unusual gifts--with a special emphasis on Internet-based services--that, while not always inexpensive, are guaranteed to occupy space not in the house but somewhere in the mind.
Heaven Sent
Down deep, most everyone thinks that getting a star named after them is a silly, eccentric, inauthentic act of sheer foolishness. But even further down deep, we all think it's kind of cool. Though roughly on a par with receiving a deed to the Brooklyn Bridge, having a star registered in our name is kind of rich with romantic yearning. The whimsically titled Ministry of Federal Star Registration in Palm Springs will make it possible to give a star for only $55.90 per heavenly body (including a star chart with telescopic coordinates and a full-color certificate suitable for slipping into the bottom or the underwear drawer and forgetting about). Call 800.528.STAR and allow 14 to 21 days for delivery, or pay an extra $20 for overnight delivery.
Christmas on Ice
For the ultimate gift that will keep on giving, the Alcor Life Extension Foundation in Scottsdale, Ariz., will sign up your loved one as a member of their pioneering CryoTransport program. Simply put, for a membership fee of $150, the good nonprofit folks at Alcor will process the paperwork allowing said loved one to be frozen and stored in liquid nitrogen whenever he or she finally slips this mortal coil. The actual cost of unlimited cryonic storage is a whopping 50 grand (usually paid for by taking out an insurance policy in Alcor's name), but the membership fee carries no obligation to go the next big step. Besides, given along with an nifty $10 Alcor T-shirt or baseball cap (their logo is a multicolored phoenix), the membership certificate is in itself a gift that will not soon be forgotten. Call Alcor toll free at 877.462.5267 or check their website at www.alcor.com (Visa and MasterCard accepted).
Shaman Games
There's a charming fellow in merry olde England who goes by the name Grandfather Michael the Shaman. An experienced reader of the mystic tarot, Michael has set up a unique long-distance virtual tarot reading empire at his www.tarot-reading.com site. For around 40 bucks, the good shaman has made it possible for you to give a weekly tarot reading to the person of your choice. The "gift" will arrive by email, with a personalized message from you, and will direct them to the main website, where they will give a few basic bits of info (favorite color, date of birth), and from then on Michael will send your friend, every single week for a year, the printed results of a guaranteed one-of-a kind tarot reading, with special emphasis on events of the future, or the present, depending on the recipient's request. Grandfather Michael can also be faxed at +44 1480 350892.
A Gift of Good Taste
With the help of the expert chefs at Cook Express (www.cookexpress.com), an ingenious national gourmet-dinner delivery service, you can give the gift of food--very, very good food--and have it delivered right to your loved one's door. The mouth-watering yum-yums do require some preparation--up to an hour's worth with the really fancy dishes. But with entrees like Bradley Ogden's herb-marinated chicken with jalapeño spoonbread and roasted mushroom ragout ($12 per serving), or spiced, rubbed New York strip steak with andouille-potato hash, a little labor is next to nothing, right? The food arrives in handy "Meal Kits," with clear instructions and expert cooking tips. You need to order a day in advance, though, so plan ahead. Gifts are encouraged: just click on the link marked "gifts."
Ga Ga Bytes
For new or impending parents on your clutterless gift list, Cognito Products has just the thing the obstetrician ordered: a personalized baby homepage. For a mere $39.99, you can order up a colorful website with up to eight photos of the baby in question, the Bouncing One's name, birth date and statistics and a personalized letter from the parents, grandparents, etc. For an extra charge, you can buy "ga ga bytes," which amounts to 30 seconds of adorable baby audio. The whole package comes with a biodegradable kit with instructions and everything. It's enough to make any baby drool with excitement. Sites can be ordered online at www.estork.com.
Retractable Claus
As an ironic twist on the usual gratuitous holiday clutter exchanges, why not send Santa Claus--the King of the Christmas Clutters--without any unnecessary packages? Santa himself will be the gift, get it? For around $100 bucks, Singing Telegrams & Balloons--a large Bay Area doorstep entertainment service--will send the jolly man to the house of your choice to sing and dance and carry on in full-throttle merriment and general high spirits. Should you insist that Santa actually bring something, that can be arranged as well for an additional fee. He'll even do the shopping (picking up paid-for items at select hotels and stores around the area), and deliver to the door of your choice. Call 415.824.6725 or 888.339.7925.
THERE ARE NO guarantees, of course. People are quirky. But chances are that any of the aforementioned gifts will be met with serious pleasure, and cries of "You shouldn't have" that certainly won't mean "You shouldn't have." On the other hand, if none of these suggestions float your proverbial boat, you can always do what a certain grandmother used to do with her six grandkids: she'd call them on the phone, wish them Merry Christmas and say, "I didn't want the holidays to pass without reminding you that you are loved and treasured."
Such a gift requires no wrapping and packs a wallop without taking up an inch of actual space.
[ Santa Cruz | MetroActive Central | Archives ]