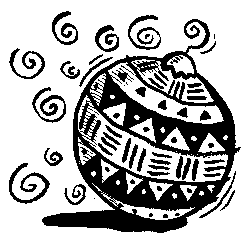 Gift buying from home is just a click away
By Michelle Goldberg
FOR THE LUCKY FEW with lots of time, patience and access to cool stores, holiday shopping is a beloved ritual--the lights, the tinny cheer of seasonal Muzak, the magical window displays, even the armies of dissolute Santas. But for many of us, the luxury of browsing and fingering the merchandise in the flesh remains but a consumer's dream.
Happily, every year it gets a little easier to shop online, and today it is possible to buy almost anything in cyberspace. Using a credit card will never be as safe as handing over cash, but new cybercash programs have reduced the risk to acceptable levels. So put on some real music, brew some hot cocoa and click your way to instant holiday popularity.
Easily the best music site--and perhaps the best site, period--on the Web is CDuctive, where it is possible to create custom CDs from thousands of electronic and indie-rock tracks. The site is divided into the genres: acid jazz, ambient, big beat, hip-hop, house, illbient, techno, trance, dream pop, glam, industrial metal, lo-fi, punk, riot grrrl and the like.
Don't worry if you're not sure what they all mean--the site offers both short descriptions of each style and real audio samples of every song. The indie-rock categories are a relatively recent addition, so CDuctive's electronic-music catalog is deeper and more extensive. Still, artists like Beck, Green Day, Elliot Smith, the Donnas and Sleater Kinney are available, as well as ultraunderground stuff likely to impress even the snobbiest music fan.
Visitors browse through the sections choosing the songs they want. After arranging the tracks in the desired order, they enter the title and subtitle of the CD (the perfect place to put a personalized holiday message), then click a buy button to pay by credit card.
The CD is burned and shipped within 24 hours--I got mine three days after ordering it. The cost is comparable to that of a regular CD--$4.99 for the first song, 99 cents for each additional one. Even better, each week CDuctive offers between five and 10 (good) songs in each category for free.
Loompanics Unlimited describes itself as "publisher of the world's most controversial and unusual books: nonfiction and how-to for anarchists, survivalists, iconoclasts, mercenaries, investigators, drop-outs, researchers and just about anyone interested in the strange, the useful, the arcane, the oddball, the unusual, the unique and the diabolical. We have been satisfying unusual information needs for more than 20 years."
All that and they're available online. In deference to the season of peace and brotherly love, the casual reader might want to bypass categories like "Murder, Death and Torture," "Revenge," "Guerrilla Warfare" and "Bombs and Explosives." But that still leaves lots of more benign, though still subversive, choices like "Sex," "Drugs," "Rock & Roll" and "Reality Creation." Titles include Sabotage in the American Workplace: Anecdotes of Dissatisfaction, Mischief and Revenge, How to Sneak Into the Movies and, for a stoner brother or Deadhead cousin, Indoor Marijuana Horticulture.
Presents from Urban Decay will thrill most teenaged girls and likely delight stylish adults as well. The site features makeup that's both gritty and glamorous. Nail Enamel ($14) in colors like Dude (rich turquoise with glitter), Spare Change (heavy silver with aluminum flakes) and Shattered (aqua with lavender sheen) is perfect for stockings.
Urbanize makeup kits ($40) make irresistible gifts--they come with two eye shadows, lip gunk (a thick, saturated lip gloss), nail polish and eyeliner in colors like Chains (a wonderful metallic gray-green), Route 66 (smoky dark gray) and Gash (luscious burgundy). Despite the irreverent names, Urban Decay's cosmetics are very high quality, with intense colors that last in the urban jungle.
More gifts for young and wannabe young women are available at the Girlshop, the online home of several trendy, playful New York boutiques. Amy Chan's bags are beautiful--among them is a fuzzy gray granny clutch with a green lining and a beaded tote with yellow and green dragonflies. But they are expensive--those two are $180 and $124, respectively.
Also featured is Ellen for Le Corset lingerie, which is sexy in a very classy, modern way, as well as clothes from Pixie Yates, Cynthia Rowley and others. If triple-digit spending isn't an option, there's Joomi Joolz's adorable hair jewelry, including beaded headbands ($45) and bobby pins decorated with shiny, delicate flowers and butterflies ($14)
If unique presents are a must, visit Ebay, the online auction. There are tens of thousands of things for sale, from computers and Rolexes to American art pottery and Pez dispensers. The site is kitsch heaven, with a massive collection of vintage lunch boxes, Barbie dolls and baby-boomer memorabilia. It's a 24-hour cyber flea market and garage sale.
There are also many real treasures to be found on the site, like a stunning original French turn-of-the-century theater poster going for $127 or an Art Nouveau brooch for $10.50. The strangest item offered on a recent visit was a stuffed "unusual German bird" for $5.
The site can be a bit daunting at first, but there's a tutorial to walk you through the process. Auctions last between three and seven days, and bidding is done in increments that vary according to the price of the item. Once you find something you want to bid on, you click a button and enter the maximum amount you're willing to pay for it. You don't have to keep checking the site to see how the auction is going--Ebay gives everyone, appropriately, an electronic "elf" to bid on his or her behalf. Your elf will counter other bids by whatever the bidding is (sometimes as low at 25 cents) unless the bidding reaches beyond your limit. If you win your auction, you're put in touch with the seller by email to arrange the transaction.
There are dozens of chocolate shops on the Web, but the queen is still Godiva, not the least because of its reliability--orders come packed in a sturdy insulated box filled with dry ice to ensure freshness. The site allows you to hunt either by price or by occasion.
A search for all products between $15 and $25 yielded a surprising 32 items, including a half-pound kosher chocolate assortment in a Chanukah gift box. Of course there are also things to splurge on, like the Holiday Fanfare Basket ($150), which includes several boxes of chocolates, a selection of truffles, a box of cookies, a nut and caramel candy assortment and vanilla hazelnut coffee.
Diamond Organics features samplers of seasonal fresh produce delivered anywhere in the country. For the gift that doesn't stop giving, select a monthly mailing package. An Organic Vegetable Sampler ($46 a month) contains specialty greens and lettuces, herbs, root vegetables and seasonal fruits. The fruit sampler (also $46) includes Fuji apples, Asian pears, kiwi, guava, cherimoya, blood oranges, valencia and navel oranges, satsuma mandarins and minneola tangelos in winter and fresh cherries, apricots, grapes, nectarines, peaches and plums in the summer.
For a loved one who cooks, consider a Menu of the Month sampler ($39 a month for a year, $42 for six to 11 months, $44 for three to five months and $46 for one month). Each month, the chef on your list will receive a recipe for a gourmet dinner and all the ingredients to make it. The September menu is Shiitake Ravioli with Roasted Colored Peppers, Tomatoes, Garlic & Onion, Mesclun Salad & Dandelion Greens. March is Artichokes with Tartar, Sautéed Vegetables, Basmati with Olive Oil Rice, Mesclun Salad with Vinaigrette, Hot Sourdough Loaf & Dessert Pears.
The other dinners sound equally delicious. Since everything is healthy and organic, it will help friends and family overcome this year's holiday damage and fortify them for the real debauchery to come next winter when the millennium hits--in which case the Y2K bug may send us all back to the malls in the flesh.
[ Santa Cruz | MetroActive Central | Archives ]