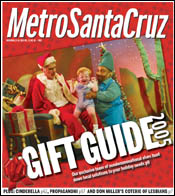 For the Week of
November 23-30, 2005
Cover Story: Gift Guide:
Our exclusive team of nondenominational elves hunt down local solutions to your holiday needs.
Nüz: A Problem of Hard-wiring; Kuehl Kat; Second Harvest Food Bank Takes Over.



Season's Bleatings: Fine ales, sophisticated goats and T-shirts are the most exclusive gifts this holiday season.
Rev: As such, it is a great idea to carpool those long distances toward home, if you can. And these days this means taking a ride from a stranger found on Craigslist.org.



The Boho Dance: Rosario Dawson in her underclothes vamps the world in Chris Columbus' film adaptation of 'Rent.'
No Buzz: Gere smells, Binoche has spells; 'Bee Season' is spacey, but the East Bay has never looked better.



Bombay the Hard Way: Garaj Mahal brings its own brand of jam band ragas to Moe's Alley.
Agitpropagandhi: Politics, punks and Visa worries fuel the anger of Winnipeg's most vocal punk group.
The Rock Show: The Meters; Kaki King; Damian 'Jr. Gong' Marley.



Reading Festival: Lavish gifts and brilliant reads bring the world to your fingertips--with or without a computer.



Cultural Synesthesia: The Thursday night 'Cookin' at the Kuumbwa' series takes its patrons into the realm of the senses.



Cinderella Syndrome: Shakespeare Santa Cruz's resurrected production of the children's classic is magical but flawed.
Copyright © Metro Publishing Inc. Maintained by Boulevards New Media.