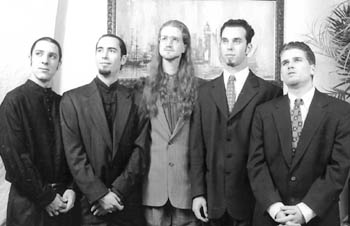 Formal Informalists: The multi-instrumentalist members of Estradasphere bring their eclectic sound to a concert of avant-garde classical music.

Around the Whirled

New Music Works teams with Estradasphere for a night of adventurous musical experimentation

By Rob Pratt

THE CONTRAST between the two is striking. Phil Collins stands better than 6 feet tall, and if he weren't almost continually smiling and joking--and wearing a flannel shirt and jeans, for that matter--he'd perfectly fit the image of the august classical music conductor, bushy eyebrows and all.

Timb Harris comes up a few inches shy of 6 feet. When he extends a glad-to-meet-you hand from somewhere amid the folds of his baggy trousers and hooded pullover (worn, no doubt, to catch his foot-long shock of brown hair), the wiry 24-year-old looks more the part of a literature student than a featured performer for a concert of avant-garde classical music.

But their collaboration makes a lot of sense, Collins explains. Eclecticism, surprise and theatricality have long suffused the sensibility of New Music Works concerts, which Collins has conducted for the past 23 years. For the group's annual Night of the Living Composers, Collins leads the New Music Works ensemble in a showcase of contemporary regional composers that vibrates with immediacy and the thrill of experimentation. Featuring Harris' band Estradasphere for Saturday's concert, Collins pairs his adventurous New Music Works ensemble with Santa Cruz's most daring band.

In the offing for Night of the Living Composers is an examination of the state of avant-garde music in post-postmodern America. Collins has put together a program that reads like a treatise on the tension between order and chaos, between past and present.

A neoclassical piece that takes inspiration from the science of chaos theory leads into a meditation on balancing sound and silence inspired by Aristotle's notion of the golden mean. Henry Brant's Knotholes, Bent Nails, and a Rusty Saw closes the first half with a clutch of juxtaposition: snatches of J.S. Bach floating atop percussive melodies and providing a backdrop for Harris' violin, which thrives on otherworldly whole-tone themes. Julia Wolf's bombastic Lick, which uses amplified instruments to convey rock and roll energy but takes its development from contemporary classical music, anchors the second half of the concert.

Both Collins and Harris are modest souls, and neither would presume that his group would make a fitting stand-in for the whole of contemporary classical or pop music culture. But the New Music Works ensemble and Estradasphere are uniquely suited to the task. Both revel in stark contrasts. Both draw musical inspiration from every continent on Earth. They have a keen sense of place, and they craft their musical performances for the venues in which audiences will experience them. They both have a fascination with each other's idiom--New Music Works for the passion and drive of rock & roll, and Estradasphere for the purity and sophistication of classical.

Frankly Speaking

"Zappa was the first musician I completely related to on a nuts level, on a musical level and on a guitar-playing level," Collins says. "When he died, I thought there was just a huge vacuum, but it's coming back in groups like Mr. Bungle and Estradasphere that use all the kinds of world music around us--it's that kind of openness to any kind of stuff."

Harris beams a yogic smile. "It's strange to get the torch passed to us from someone we don't know," he says. He honors the compliment implied when Collins talks about Estradasphere as an heir to the musical legacy of Frank Zappa--but none of the members of Estradasphere were ever into Frank Zappa.

"We do understand where that approach to music comes from," he adds. "You absorb what's around you and have fun with it. The people who wind up doing real exploration aren't the ones listening to what someone else has done over and over and over."

For Collins, artful musical explorers also don't worry about hyping their work as the next big thing. The "neon lights" of the avant-garde can't hold a candle to the awesome brilliance of ancient musical traditions.

"To think we keep inventing the newest thing under the sun is just preposterous," he says. "For instance, you might hear music created a thousand years ago, and when you hear it, you file it away as something with a pentatonic tonality. Then you hear it again, and you learn that it was made with a tin can, some wire and a tree limb. Then later you listen to it, and you realize its genius.

"Teaching world music [at Cabrillo College] has given me a chance to learn about what's really new," he continues. "Theater ideas [in a musical context] have a long tradition in Vietnam--and they do some really whacked-out things. There are many traditions that are highly symbolic, and some have a dada flavor in various cultures. If you open your senses and appreciate it, maybe you'll get hit by the magic wand and do something really new."

Vedic Stew

Harris has performed during the New Music Works season-opening concerts for the past two years, but not as a featured performer. This time around, Collins handed the young player a real challenge: learn how to play the violin all over again. Brant's Knotholes spreads musicians around the performance space, and each one takes up a disparate theme. The violin part, which Harris plays, uses unique tunings for the instrument, and it requires the performer to do the entire part in "double-stops," or playing two notes at a time.

"It's all in unison," Harris says. He raises his left hand and shows his index and middle fingers locked together. "The tuning lets you play the same note on two strings next to each other. But all the positions are different. It really is like learning to play a different instrument."

"Like Django Reinhardt," Collins adds. "Just your two fingers welded together, moving up and down."

But it's good exercise, Harris says. Estradasphere as a band has worked on developing deeper concentration and sharper focus in the group's music, and learning new violin tunings requires a lot of both. So does yoga. During its three-year history, the band has spent a lot of time playing for dance classes--Estradasphere even collaborated with the Mel Wong Dance Company for a concert two years ago--and lately the group has accompanied a regular Vinyasa yoga class taught by Mitra.

"We just sit for two hours and play quiet, quiet music," Harris says. "These people are concentrating, and they really rely on you to stay focused. That's led to a little more focus on stage. We started out as a fractured band--we all come from different musical backgrounds--and if you put us all together, it's bound to take a while for the mixture to stew. Lately it's become a more focused stew.

"It's amazing how it happened," he continues. "At first all the band had in common was video games and glam rock. When we finally started to gel, we could just pump all of our influences into the Estradasphere machine, and out comes this thing that not one of us could have thought of alone."
---
New Music Works presents Night of the Living Composers featuring Estradasphere, Saturday at 8pm at the Vets Hall, 846 Front St., Santa Cruz. Tickets are $15 general/$13 seniors and students, available in advance by calling the Civic Box Office at 831.420.5260.
---
[ Santa Cruz | Metroactive Central | Archives ]