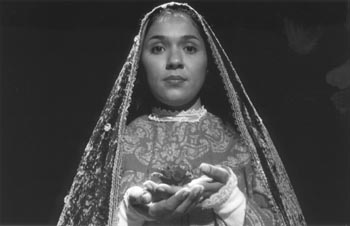 Vision Visitor: Primavera Flor Valdez plays 'La Virgen del Tepeyac.'

Pageant Power

El Teatro Campesino imbues 'La Virgen del Tepeyac' with emotional and historical force

By Heather Zimmerman

MIRACLE PLAYS pretty much had their heyday in the Middle Ages, so to an audience glutted with the usual holiday repertoire, El Teatro Campesino's production of the miracle play La Virgen del Tepeyac can seem especially unique (although for many, this biennial production, alternated each year with another holiday-themed production, La Pastorela, has become a tradition).

La Virgen del Tepeyac is a lavish pageant, though it's not, as one might expect given the season, a re-enactment of the nativity. Instead, the play deals with a comparatively more recent story that has become part of the Christian religion, although it offers more than religious celebration--at its heart lie some thorny historical issues.

Set in 1531 in Mexico, 10 years after the Spanish Conquest, La Virgen initially offers an unflinching look at the forced religious conversion of Mexico's indigenous peoples. The story concerns four apparitions of the Virgin Mary witnessed by Juan Diego, a converted Aztec Indian whose lowly status under Spanish rule doesn't afford him much credibility.

Going before the Bishop of Mexico and his friars, Juan Diego encounters doubt and suspicion when he relays a message from La Virgen herself that she wants a temple erected in her honor atop a hill sacred to the Aztecs. The Virgin appears four times, and performs several miracles in order to get the voice of her Indian messenger heard and believed. The Virgin's ultimate message is that she has come to create peace between the Aztecs and the Spanish.

This story has particular resonance performed inside the church at Mission San Juan Bautista, and director Kinan Valdez uses the historically loaded environs to powerful effect, bathing the walls in dramatic lighting and taking full advantage of the cavernous building's acoustics. Lights in saturated colors cast almost impossibly tall shadows on the walls and ceiling that are alternately ominous--the bishop literally looms large in one scene--and wildly joyous, such as several Aztec dance scenes.

The play is largely musical, with some dialogue, and the company makes the songs, many of which feature both booming percussion and choral singing, ring out impressively in the mission. Lighting and music come together especially well for the first apparition of La Virgen, who appears amid hazy heavenly light up in the choir loft--it's no easy feat to duplicate an event from on high, but El Teatro Campesino probably comes as close as we're going to get.

Obviously, La Virgen has got to have a good voice, and Primavera Flor Valdez does not disappoint, singing the part with sweet and clear but rich notes. Rubén C. González is also very strong in the role of Juan Diego, and Phil Esparza affects dignified presence as El Obispo (the bishop). The large cast has a collectively beautiful voice on the choral numbers and tackles the Aztec dance numbers with both precision and contagious excitement.

The play is performed entirely in Spanish, but with the events of each scene detailed in English in the program, the performance isn't difficult to follow for non-Spanish speakers; there are a couple of mostly dialogue scenes that lack the luster of the rest of the pageant if you don't know the language, but it hardly matters. El Teatro Campesino has crafted a gorgeous spectacle that appeals beyond language barriers, and to a certain extent, beyond religious boundaries as well.
---
La Virgen del Tepeyac plays at Mission San Juan Bautista, downtown San Juan Bautista; Thursday-Saturday at 8pm and Sunday 4 and 8pm through Dec 17. Tickets are $19 adults/$15 students and seniors/$9 children. (831.623.2445)
---
[ Santa Cruz | MetroActive Central | Archives ]