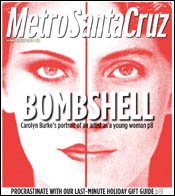 For the Week of
December 7-14, 2005
Cover Story: Bombshell:
Carolyn Burke's portrait of an artist as a young woman.
Nüz: Incidental Noise; Survey Says; Weariful of Celibate Poorness.



Your Metro Santa Cruz Last-Minute Gift Guide: Strap on your sleigh-belt and get ready for our crash course in last-minute gift-giving.
Rev: 'Crap Cars' features page after page of crappy cars with their original marketing photos and Porter's pithy analysis of what makes a bad car really bad.



Oil Slick: Politics and oil muddy the waters in confusing international thriller 'Syriana.'



Charlie Can't Wank: Eight-String guitar phenom Charlie Hunter brings his simpler, more melodic trio back home for the holidays.
The Rock Show: Sean Paul; Carla Kihlstedt; Hella, Giraffes? Giraffes!



The Heart of Moving Parts: From limited edition books costing thousands of dollars to inexpensive chapbooks of political poetry, Felicia Rice takes publishing to beautiful extremes.



Big Fish: Sea Harvest puts Moss Landing on the map as a dining destination.
Copyright © Metro Publishing Inc. Maintained by Boulevards New Media.