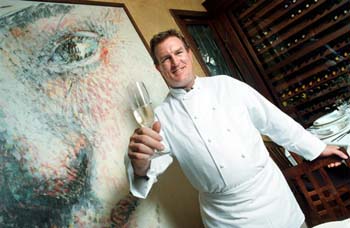 Photograph by George Sakkestad

Toast of the Town: Chef Marc Westburg's menu keeps pace with the seasons.

Pearl Without Price

A bistro continues to deliver old-world warmth, a seasonal menu and excellent wine options

By Christina Waters

HOW SATISFYING it is to look forward to a meal and have the experience live up to your expectations. Last week's dinner at Pearl Alley Bistro did just that. Looking as good as always, the upstairs dining room offered a blaze of kitchen activity, gleaming hardwood floors and enough white linens to keep Cezanne happy for years.

The bar was full of regulars, lots of them talking wine and trying out the latest suggestions from sommelier Mark Curtis. The menu--which changes monthly--was loaded with autumnal classics given that whimsical Marc Westburg spin. (Thank God, the vegetable flan ($5.75) will remain on the menu forever.)

We perused tarts and salads, chowders and risottos. Jack's English roots got the best of him when he saw corned beef, cabbage and turnip-stuffed pasty ($9.75) on the first-courses listing. During the fall and winter, chef Westburg's thinking returns to heartland America, hence the scallops and oysters with cornbread stuffing, chicken and buttermilk-biscuit pie, and even Virginia Smithfield ham with red kraut and roasted potatoes ($15.25).

I had to have the Smithfield, easily the world's greatest ham, so superbly preserved and cured that U.S. presidents used to send it to British royals as a Christmas gift. Jack saw dry-aged New York steak ($24.50) and that was that.

From the wines-by-the-glass listing, we took Curtis' tip on a spicy '96 Finca Allende Rioja ($6.25) that seemed perfumed lightly with blood oranges. My '97 Savannah-Chanel Pinot Noir ($6) was full of plums and spice, a fine discovery from a local winery.

We'd only managed to consume a few bites from the round loaf of house bread when our starters arrived. I always wish I were a much larger woman when I dine at Pearl Alley. The flan, involving tumescent layers of spinach, carrots and beets, was its usual perfection. It arrived in the center of a shallow pool of garlic butter, and Jack moaned something as he tried his first taste.

Jack's pasty--"Christmas in England"--was a very pretty whole-wheat half moon filled with delicious bits of corned beef and some traces of cabbage and turnip. On the side were pools of fiery horseradish, fiery mustard and a chow chow so good we demanded the recipe. Turns out the crimson relish of sun-dried cherries, tomatoes and cranberries in vinegar and spices is a recipe Westburg got from his aunt in Iowa--so typical of this chef.

The chow chow was just as good with our entrees, since our amiable waitress provided us with extra side portions of the superb condiment.

Jack's New York steak was the size of New York and expertly cooked to a gorgeous shade of rare/medium rare and oozing juices. How do they get steak to be this moist and juicy? Pearl Alley could easily become renowned for this dish alone, a dish that confirms the bistro's devotion to big flavors.

Actually, this bistro becomes a brasserie in cool weather, adding substantial side dishes--like the excellent pungent braised red cabbage with apples that came with my lean, impeccable Smithfield ham. This is ham that Brueghel's farmers might have enjoyed. Simple roast potatoes completed this dish, and earthy lemon-glazed sweet potatoes went well with Jack's steak.

The de rigueur bistro gossip was flying fast and thick by the time we dipped our spoons into a dessert of warm pumpkin soufflé ($9.50). Large enough for a rugby team to share, it could have been sweeter and firmer, but we loved the surrounding pool of flawless cinnamon-spiked custard sauce--splendid with espresso.

Vive le Pearl Alley, where winter is an excuse to warm up the menu.
---
Pearl Alley Bistro
Address: 110 Pearl Alley, Santa Cruz
Phone: 831.429.8070
Hours: Lunch daily, 11:30am-5pm, dinner 5-11pm (11:30pm Fri-Sat)
Chef: Marc Westburg
Extras: Full bar, seasonal menus
Ambiance: ***1/2 If it's unpretentious, tasteful and convivial you're after, Pearl Alley is Eden.
Service: *** Can be wonderful and is always responsive.
Cuisine: *** Westburg and his crew bring miles of flair, creativity and old-fashioned care to their varied bistro repertoire.
Overall: It's not for nothing that Pearl Alley is permanently tattooed on our collective taste buds. A Santa Cruz original.
---
[ Santa Cruz | MetroActive Central | Archives ]