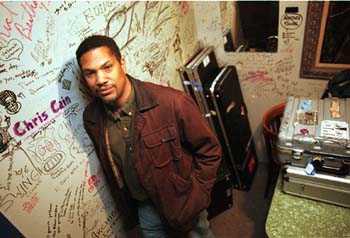 Photograph by George Sakkestad

Look Over Yonder Wall: Moe's booker David Claytor stands next to a wall full of scratched and scrawled autographs by the many blues performers who have played the club.

Dream Team

What started as a big idea for the owners of Moe's Alley has turned into a big business of blues

By Rob Pratt

THE SCENE AT MOE'S Alley is a little odd. Crowds have lined up 15 deep in front of the stage, swaying back and forth to the music of blues-pop sensation Nina Storey, howling in admiration after guitar solos and rapt with attention between tunes.

It's not the crowd, though, that makes for a strange scene. In its eight years of existence, Moe's Alley has earned a devoted following for its quality lineup of blues and rock acts. But it's 9:45pm, just 15 minutes after the beginning of the first set of the night--quite early even by the standards of Santa Cruz night life--and the place feels like it's already headed to a peak.

In the crowd, one of the partners in the club, Bill Welch, dances with abandon, while another, Phil Lewis, casually oversees what's happening around the bar and the door. When the two first opened Moe's Alley, in May 1992, they had to work shows either behind the bar or behind the sound-mixing console in order to keep costs down. Just as the national blues scene during the '90s experienced a resurgence, Moe's Alley has found a small but loyal Santa Cruz audience eager for gritty music presented by hard-working bands. Now Welch and Lewis can step back a bit and groove on the happening scene they've created.

But not for too long. With the Santa Cruz Blues Festival--recently expanded with a fall offering at Saratoga's Mountain Winery--Welch and Lewis and the other partners in Moe's Alley have founded a local blues empire that requires daily ministrations.

'A LOT OF IT is that you learn as you go--and the mistakes cost you money," Lewis explains of the early years of the club when he and Welch were working on their winning formula. It's late during a sunny November morning, and Lewis has just sat down to talk after mopping up the floors. "They always cost you money, a lot of money. For the first few years, there were all these $500 mistakes--oops--oops--oops! Don't do that again!"

"One of the things about the blues that's hard to understand," adds Welch, who has joined the conversation after apologizing for being late because of an extra-long bike ride, "is who knows about these performers? They don't sell a lot of records; they don't get a lot of radio airplay. They're more like the traveling troubadours of this day and age. A lot of them go around the country in vans instead of tour buses, and they do anywhere from 200 to 250 nights a year. They go from market to market, and it's hard to tell until you have them go through the club whether people know about them.

"It's kind of a unique situation," he continues. "After a year or two you know some of the established artists who are going to work, and you try to expand your repertoire of musicians. For the first couple of years, Moe's was doing two or three national acts a month. Then after that we'd do one a weekend, then we got bold and did two a weekend for two or three weekends in a row."

"We've come to know that Santa Cruz is a quirky market," Moe's booker, David Claytor, tells me. "It likes the old-school blues guys--like Roy Rogers and Norton Buffalo--and the new guitar guys more than the traditional Chicago feel. But within the year that we did the first blues festival [in 1993], we were finding that we could build up certain artists who didn't do that rock-guitar sound. People like Luther Allison."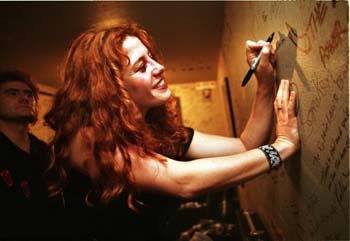 Photograph by George Sakkestad
Autograph Session: During a break from her recent gig, blues diva Nina Storey adds her name to a wall of musical luminaries at Moe's Alley; see ArtsSantaCruz.
THE MONTH-TO-MONTH lineup now reads like a Who's Who of the national and the Bay Area blues scenes. Longtime blues favorites come through regularly, and from time to time Welch, Lewis and Claytor find themselves championing bands that become regional and national sensations.
"Nina Storey's a great example," Welch says. "A friend of ours went to a festival in Colorado and brought home a CD of hers and put it on. It just popped out of the speakers, and Phil and I just went, 'Wow! This is really cool stuff. Let's get her up and give her a shot,' and the more we listened the more we liked it. Then she came out here and--amazing show."
After that November 1998 date at Moe's, they quickly booked Storey for last May's blues festival, where she stole the show even from headliners the Allman Brothers Band. She returned to Moe's to play a sold-out two-night run in August, then headed to New York to play the festival-closing set at Woodstock '99.
"We've really been getting a lot of good response lately at Woodstock, at the New Orleans Jazz and Heritage Festival and at Lilith Fair," Storey says in the green room at Moe's after her last set of the night Dec. 3. "Each place is different, but Santa Cruz is totally different. Anytime you have somebody who's so supportive of what you do and has such a passion as they do here, that's all you can ask for."
That's a recurring theme among the road-weary musicians who play at Moe's. The Boneshakers' Randy Jacobsen, a seasoned studio and national touring vet, talked in an interview last year of having such good experiences playing Moe's and the blues festival that he brought his family to Santa Cruz for a vacation. Two years ago, blues-rock road warrior Jimmy Thackery explained that he can make it through a week of bad gigs if he knows there's a Moe's Alley date at the end of it.
"It was two years ago when Jimmy Thackery came through," Welch says, "and he was just giddy. It was like his 260th gig that year, and it was like November, and he was so full of enthusiasm about how much he liked coming to a club where he could have a really good time and get taken care of and people knew who he was."
"Part of what we've always heard and try to do is take care of the musicians," Lewis adds. "When they come back, they're like, 'Wow! The last time I came here I had such a great time, and the people of Santa Cruz are really live-music friendly,' and these players just respond to it. They say that sometimes they go and play San Francisco or San Jose and certain other places and they rarely get applause."
"Santa Cruz is very unpredictable, though," Welch says. "There's so much music here, and people are really hip to music in this town, so it's hard to find a niche that works all the time. What we're finding now is that a lot of the artists that we booked way back then are still on the circuit, but they're not as popular as they were. We're constantly trying to adjust."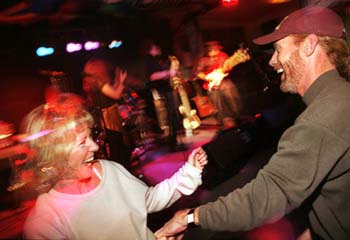 Photograph by George Sakkestad
Friends of Moe's: The loyal crowd at Moe's Alley comes out early, stays all night long and treats performers like stars.
THOUGH MOE'S ALLEY opened for business in May 1992, it was three years earlier, in 1989, that Lewis bought the Galaxy, a gay disco on the unincorporated outskirts of Santa Cruz. By day he took care of business matters at the Galaxy, and at night he tended bar at a Capitola hot spot.
"In 1990, when O.T.'s [O.T. Price's, a blues and rock club near 41st and Soquel] closed down, I moved all the sound and lighting gear from there to the St. James Club [in Scotts Valley], which started booking national acts, and I managed the place," Welch recalls. "I kept that going for six or eight months, and that died, and I kept all the gear, and then I met Mr. Lewis. He had all the enthusiasm and the wherewithal to do a blues club that he kept talking about, and it was sounding good."
After a three-month renovation, the Galaxy became Moe's Alley, which got its name when Lewis combined a couple of names friends had suggested--Fat Moe's and the Alley. Lewis tended bar, Welch ran sound and Claytor booked bands.
"That was the key for a long time," Welch says. "Phil was the bartender, and I did the sound, and a lot of the overhead was cut down. We could do things and see how the situation was and adjust. That's how we conceived the blues festival one stupid night."
The first one-day event at Aptos Village Park with Albert Collins headlining worked so well, Lewis continues, that they decided to build it up into an annual festival.
"We doubled everything the next year, and we lost our butts," he says. "We lost money the second year, came close to breaking even--nowhere near paying for our time--the third year. And then it got better every year."
But the festival set up a feedback loop between weekly offerings at Moe's and the annual show's Memorial Day weekend blowout that has propelled talented unknowns into regional stars.
"It really helps expose a lot of people to artists we have coming through here," Lewis says. "We see that they go to the festival, and they see an artist they've never seen before, and the next time through at Moe's three months later, the show's busy. We weren't thinking of it at first, but it made sense really quickly."
It's also made Santa Cruz into a small town strong on the blues, he adds. Touring stars come to town early for shows just to hang around. And in the past few years, some have made Santa Cruz their home.
"So many great musicians live here," Welch says. "Chris Cain moved here, James Armstrong, Terry Hanck and Mike Schermer. The list goes on and on."
[ Santa Cruz | MetroActive Central | Archives ]