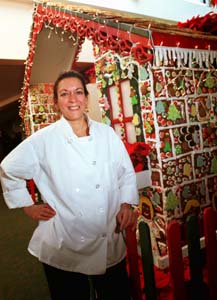 Culinary Heights: Chef Beverly Hillis of Chaminade prepares legendary brunch buffets with a million-dollar view of the bay.





In the Nick of Dine

Santa himself needs a reservation to enjoy the holiday specials at Chaminade

By Janet Blaser
'TWAS THE NIGHT before Christmas and all through the house,
Not a creature was stirring, not even a mouse.
Everyone had gone out to dinner somewhere,
But without reservations, they were in for a scare.
All tables were taken, the candles were lit,
And poor Jane and John had nowhere to sit.
They walked in in vain, hostesses shrugged in the din,
But nothing would help--there was no room at the inn.
Not AmEx, not Visa, not even Discover,
Could find them a meal of one kind or another.
Curses! They sighed, as they headed toward home,
Not leftovers again! they collectively groaned.
The lesson to learn for your holiday fun
Is to first make a phone call--and then do the run.
Whether cafe or bistro, simple or chic,
Come holiday time, they all need a week
More or less to prepare, to cook all your goodies,
And make sure there's room, for your head and your footies.
So make reservations and get there on time,
And with ne'er a worry you'll be able to dine.
GOT IT? Now that that's clear, let's talk about where you can go should you want to eat out on the night before Christmas. Not many places are open, actually, and in some ways, it's easy to appreciate that fact: having to work on that tradition-filled evening would be difficult.
However, the staff at Chaminade will be at your service and then some, with an all-you-can-eat dinner to fill your head with much, much more than simply visions of sugarplums (whatever those are). And Chaminade has its own traditions you can be a part of--buffets you'll tell all your friends about for weeks to come, service extraordinaire and, of course, that million-dollar view.
Now for the delicious details. Chances are it's been awhile since you've treated yourself to a meal at Chaminade. So, hey, it's the holidays--wait no longer. The buffets are legendary--spreads of so much first-class food, prepared so well and served with such panache. Chef Beverly Hillis takes great pride in what she does, and we're the ones who benefit. Drawing from the abundance of what Santa Cruz offers for our dining pleasure, she fills her menus with an inspired combination of American and European classic dishes and contemporary cuisine styles. That means you'll find prime rib au jus and a sushi and sashimi station; seared sea bass with red and yellow pepper coulis and spanakopita; superb appetizers, such as mushrooms stuffed with shrimp; every salad from the classic Caesar to simple baby greens; and--lest we forget--the chef's holiday dessert table.
Now, I think the most difficult part of this dinner will be having enough room to even taste everything you want to. Such a problem, eh? Well, all I can say is count your blessings, make reservations, dress in your finest and have a wonderful time. This lovely dinner will be served from 5:30 to 8:30pm on Dec. 24. The cost is $36.95 for adults and $15.95 for kids ages 6-12; children 5 and under dine free.
And although Saint Nick won't be there on Christmas Eve--that's his busy time, y'know--he will make an appearance at a Sunday brunch on Dec. 19. Besides the jolly man in the red suit, you'll find everything from prime rib to Belgian waffles, an omelet bar, fresh-squeezed OJ and lots of bubbly. Cost for this very special brunch with Santa is $24.95 for adults and $13.95 for kids ages 6-12; children 5 and under get in free. Need I remind you that reservations are needed for both these events? Give a call to 475.5600 and then head up to Chaminade, One Chaminade Lane, Santa Cruz.
[ Santa Cruz | MetroActive Central | Archives ]