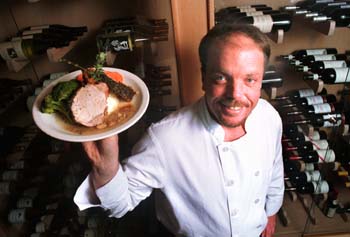 Wine and Dine: Chef John Hughes of Green Valley Grill shows off his talents in such dishes as herb-crusted roast prime rib of pork with roasted garlic and pancetta au jus.

How Grill Was My Valley

At Watsonville's Green Valley Grill, a stylish menu showcases the big, bold flavors of oak-fired cookery

By Christina Waters

SOUTH COUNTY DINING has even more to offer than we'd realized, Katya and I both agreed as we joined a full house at Green Valley Grill last week. Here, on the second floor of what looks like an office complex across the parking lot from a spa, we found a thoroughly enjoyable evening's dining.

Tiny white lights festooned the central island of booths in the carpeted dining room, and Christmas carols filled the air. A Storrs Merlot 1996 ($36) seemed the perfect choice from a strong listing of California wines--especially when poured into huge goblets by our attentive server.

Katya tore daintily into a generous loaf of francese, while I zeroed in on an evening special of oak-grilled duck breast ($18.95) marinated with juniper and thyme. Grilled duck always appeals to me as a great cool-weather entrée. The velvety wine was already opening nicely as we ordered appetizers of tortilla lime soup ($5.95) and almond-breaded calamari ($5.95). An entrée of pancetta-wrapped large prawns ($17.95) completed the picture.

Oak-grilled meats and local produce topped this inviting menu, and the house hospitality is further evident in a choice of rice, potatoes or polenta, plus soup or salad accompanying each entrée order.

There is no undersized nouvelle spin at Green Valley. The proof was in a bowl of cilantro-topped broth packed with chicken, avocado, tomatoes, jack cheese, a hint of pasilla chiles and shredded tortillas. It smelled divine, as did Katya's curls of calamari.

While the house version of this wonderful Mexican classic soup was tame compared to some I've had in Oaxaca, it was absolutely delicious and perfumed with lime and chicken broth fragrances.

The fried calamari didn't taste especially almondy, but on the other hand very few kitchens produce anything close to this tender, moist result. A better-than-average caper-laced tartar sauce helpfully added piquance.

Things got even better with the arrival of our beautiful dinner salads, created of impeccably fresh tender greens. The arugula was nutty, not bitter, and the radicchio was sweetly acidic. Katya's salad came with a blue-cheese vinaigrette that impressed us both. Blue cheese and lots of it had been tossed in with the dressing, rather than obliterated into a creamy goo. I added oil and balsamic vinegar to my salad from the cruets on the table--custom perfection.

At precisely the right moment, our main courses arrived--on large white plates, accompanied by serrated steak knives. Katya's plump prawns had been wrapped in juicy pancetta and then oak grilled to a burnished hue. The oak and pancetta permeated the mildly flavored prawns, and each bite was enhanced by spectacularly creamy and rich polenta.

My special of duck breast was equally beautiful, the rare slices fanned out in a generous display of burgundy-hued game, with a side of rich au gratin potatoes and the same broccoli that adorned Katya's plate. We overlooked the too-done broccoli and oohed and aahed over the meat attractions.

One taste of the prawn, dipped into an inspired aioli spiked with jalapeños, had me switching plates with my companion. But not for long, since the duck in its lovely sauce of blackberries and port was simply irresistible.

A piece of Gizdich Ranch olallieberry pie--killer pie practically glowing with the spicy flavor of the berries--and a rectangle of uncrisp apple crisp featuring local apples (both $4) joined our mugs of excellent coffee. "This relies too much on cinnamon and not enough on crisp," Katya aptly observed.

We both loved the sensational pie, with its perfect crust, although a homemade whipped cream topping might have been a nice touch. Green Valley Grill deserves its loyal following--a kitchen this capable gives the grill concept new luster.
---
Green Valley Grill
Address: 40 Penny Lane, Watsonville (at Green Valley Road)
Phone: 831.728.0644
Hours: Lunch Mon-Fri 11:30-2:30; dinner from 5pm. Closed Sunday.
Service: *** Smart, swift and very helpful.
Ambiance: ** Warm and friendly, this open dining room dispenses with designer frills.
Cuisine: *** Well-made dishes, drawing on the strengths of regional ingredients, the oak grill and ample culinary imagination.
Overall: Green Valley Grill deliciously rewards the expectations of a diverse clientele.
---
[ Santa Cruz | MetroActive Central | Archives ]