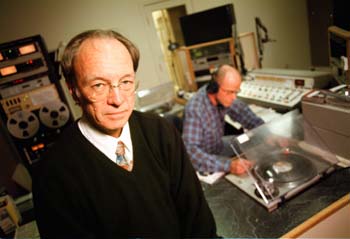 Photograph by George Sakkestad

Think Globally, Broadcast Locally: KAZU general manager John McNally is trying to steer his foundering station to a safe port.

Air Waves

KAZU, Pacific Grove's 22-year-old public radio station, faces a financial crisis, and Santa Cruz-based KUSP hopes to ride to the rescue. Will it be a marriage of convenience or a shotgun wedding?

By John Yewell

IF THIS WERE a fairy tale, it would be time for the white knight to appear and rescue the fair victim from a desperate fate. But it's not, and unfortunately, real demise looms all too imminently for public radio station KAZU (FM 90.3) in Pacific Grove. The 22-year-old station is running average monthly deficits of $10,000, and if nothing is done, KAZU will be more than $120,000 in the red when its current fiscal year ends next May 31. That's about a third of its annual budget--a difficult debt load for a small community station with fewer than 2,000 listener/members.

After just a year on the job, station general manager John McNally found himself with few options for dealing with the station's chronic financial woes. Budget cuts the previous January, during which four staff members were let go, hadn't fixed the problems; fundraising was off and expenses up while listeners became accustomed to programming changes; and that pot of gold was nowhere to be found.

With the prospect of not being able to meet payroll on the first of the year, it was time to bite the bullet and consider selling the station's license, which is owned by Monterey Bay Public Broadcasting Foundation.

Early in November, after the fall pledge drive fell short of its fundraising needs, KAZU board member JT Mason says McNally and the board of directors decided it was time to send up a flare.

A last-ditch appeal would be made to listeners, but at the same time a narrow net was cast for a buyer or partner who could allow the station to remain true to its mission to be responsive to the local community. Management didn't want this to become a bidding war.

Prominent among those contacted is Santa Cruz-based National Public Radio member KUSP, whose coverage area overlaps KAZU's. In terms of budget, number of paid staff and membership, KUSP is two to three times the size of KAZU, but in terms of mission and audience is in many ways a natural partner.

Also in the mix are KQED Radio of San Francisco; Access Monterey Peninsula, a new start-up cable franchise for the city of Monterey funded by cable fees; and California State University, Monterey Bay, which is considering creating a campus radio station.

Also contacted was Bill Kling, president of Minnesota Public Radio, one of the country's largest NPR affiliate organizations, which distributes Public Radio International programming. KAZU recently became a PRI subscriber, and although PRI constitutes less than 10 percent of KAZU's programming, the change caused consternation among some of KAZU's longtime listeners, who are more devoted to strictly local programming.

On Dec. 3, a letter from KAZU board chair Ken Peterson went out to members that put the issue bluntly.

"This is not an appeal for money," Peterson wrote. "It is, however, the most important letter you'll ever receive from KAZU. It's about the survival of the station.

"We can't declare a new 'crisis' every year," Peterson continued. "Our 'crisis' is that we can't raise all the money it takes to run KAZU. ... [W]e think it's time to find a new way of doing business."

Maybe it wasn't an appeal for money, but it was definitely an appeal for ideas. "[T]he clock is ticking, the expenses continue, and a decision on the future of the station is just a week or two away."

Replies to the request for proposals from KUSP and others were due Dec. 14--an unusually short period of time to put together a major rescue effort, especially if it involves buying the station. KUSP general manager Peter Troxell attended a meeting at KAZU that day to explain KUSP's proposal. As this issue goes to press, a decision on the future of the station is pending.

Key Issues

TROXELL INITIALLY DECLINED even to confirm that the station had been contacted by KAZU. But during KUSP's quarterly call-in show Dec. 7, Troxell told listeners that talks were under way.

"We have talked, and they [KAZU] are looking at what their options are," Troxell said. In response to a caller who identified herself as Diana of Monterey, Troxell tried to reassure KAZU supporters that KUSP was sensitive to the issue nearest to their hearts:

"From what I understand, the mission statement of KAZU and how the board approaches all of that, they're very concerned about maintaining their mission, which is local access, having expression from the community available and presenting the unusual music that you can't get anywhere else," Troxell said.

Do you support that? asked Diana.

"Yes," Troxell responded.

In a later interview, KUSP board president Mark Bernhard said KUSP's offer includes no cash, but there is a commitment to continuing local programming. Bernhard said KUSP's offer would also reserve three seats on its board for KAZU members. To cut costs, Bernhard says underused space in KAZU's studio could be sublet.

Sources at both stations said that any joining of the two will likely involve other cost-saving consolidation strategies such as dividing programming responsibilities, with KAZU being more devoted to music while KUSP picks up the lion's share of the public information duties.

This might allow for a return to production of a local news program--something KUSP axed in the early 90s during a budget crunch.

"That's something we've wanted to do for a while," Bernhard says, "but it's expensive and very labor intensive."

One likely cost-cutting measure, regardless of who owns the license, will be a move into less expensive digs. After a disastrous May 1997 fire, KAZU moved into its current studio, rent for which is nearly double its previous rent.

Access Monterey Peninsula has made informal proposals to house KAZU as part of its strategy to create a media center with TV, radio and Internet components. AMP board chair Don Brutzman recently told KAZU listeners during a Dec. 9 KAZU call-in show that AMP would welcome KAZU as a tenant--presumably at minimal cost--regardless of who took control of the frequency. In a later interview with Metro Santa Cruz, AMP executive director Paul Congo revealed that AMP had not actually been asked to submit a proposal to acquire KAZU.

No Pain, No Gain

IF KUSP DOES ACQUIRE KAZU's license, there will be some financial pain involved. KUSP would assume KAZU's debt and liabilities--the extent of which has not been determined.

"We're going to be looking for sources of funding to carry this out," Bernhard says, meaning, he hopes, grants. But Bernhard did not rule out the possibility that KUSP would have to borrow money to consummate the deal.

Still, from KUSP's point of view, the license would come relatively cheap. Depending on the motivation of a buyer and the depth of his pockets--evangelical broadcasters, for example, tend to be willing to offer a lot of money to reach a market--KAZU has been valued by the Maryland-based Station Research Group at between $250,000 and $450,000.

The much larger KQED, on the other hand, is in a position to make a more substantial monetary offer to KAZU. KQED general manager Jo Anne Wallace would only confirm that her station is preparing a proposal. "There isn't much more to respond to than that," Wallace says.

Bernhard acknowledged that part of KUSP's strategy is defensive. If KQED entered the market, KUSP could take a big hit in the pocketbook.

"If a larger station such as KQED took over, we face the prospect of competing with someone who would drain off a large part of our listener base," Bernhard says.

But it is, ironically, this same dynamic that has played a role in the decline of KAZU: the drain of contributing listeners from KAZU to the larger KUSP.

It also so happens, Bernhard says, that a KUSP/KAZU marriage is, in his opinion, a good match. "I think it's a very good fit, because our missions are so similar," he explains. "We provide a local voice and community access, but we stay financially viable." Despite being an NPR affiliate, more than 70 percent of KUSP's programming is local.

While KAZU's Peterson and McNally say preliminary talks with KUSP, KQED and others have been positive, the key issue for KAZU's management, programmers and listeners remains not money, but local control.

"The station's commitment all along has been to community-based broadcasting of music and information," says McNally, cautioning that a decision to sell the license would take that power away, no matter who bought it. "What happens to programming is not in our control if we no longer have the license."

The trick, then, is how to maintain that local commitment and pay the bills at the same time.

"Whichever option gives us the most autonomy is the one we'll go with," says programmer and board member JT Mason, who has been with KAZU for 21 of its 22 years.

Mason says KUSP's local programming track record gives it the advantage of an "approval rating" among KAZU partisans in the decision over whether to sell the station's license.

"They've been very respectful," Mason says, "but there have been people who saw us as local and them as NPR. There's fear now no matter what we do."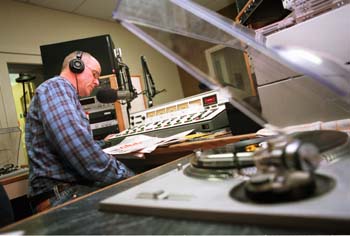 Photograph by George Sakkestad
Radio Free Monterey: Volunteer programmer Mike Eckstrom would like to see KAZU stay local--even if that means trying to get by for a time on an all-volunteer staff.
Back to Basics
AMONG THOSE MOST NERVOUS about outside intervention at KAZU is a group of some 30 volunteer programmers--the station has 72 altogether--who want to see the station return to its roots. At a Dec. 9 board meeting, the group made a proposal to cut the operating deficit by going to a nearly all-volunteer staff for a six-month trial period, during which the debt would, they hope, be brought under control, and soon after which the AMP facilities might be available. The plan also includes dues payments from programmers and a more aggressive marketing campaign by the station. Although the proposal did not include one widely anticipated element--the cancellation of PRI programming--it's an option that many station traditionalists are attracted to.
"The station's finances are not being spent properly," says Mike Eckstrom, one of the back-to-basics programmers. "A majority of programmers feel that PRI-type of programming is stepping on the toes of community radio."
Eckstrom agrees with Mason that KUSP is generally viewed positively by KAZU backers, but not by all.
"I see them as an ally, the less of a lot of evils," Eckstrom says. "It [KUSP] does pay attention to community radio, although its interests are with NPR, the big machine."
On the other hand, he adds, "a lot of programmers do look at KUSP as a threat to their mission. They want to keep this market to themselves. I can't say as I blame them."
Mason disagrees with Eckstrom on the question of PRI programming, although she acknowledges the cost is a temporary drag on the station's finances. The decision to use more national programming, she believes, will be better in the long run--if the station survives long enough to see a turnaround.
"Adding Garrison Keillor and PRI programming improved underwriting support," Mason says. "Was it a net gain? I don't think so at this point, but you need a year or two years to see a turnaround." PRI costs the station $19,000 a year, $11,000 of which has so far been recouped by new underwriting.
KUSP's Bernhard, meanwhile, hopes to reassure the Mike Eckstroms at KAZU that a KUSP takeover would be a friendly one.
"We're talking about taking over their signal," Bernhard says. "It is not our intention nor our desire to change their mission."
Of all the options, local public radio supporters were most alarmed by the prospect of the Minnesota Public Radio Goliath moving into the neighborhood. In Minnesota, MPR is known as "the Klingon Empire," playing on President Kling's name. MPR has stepped beyond its borders twice before, once in an arrangement to broadcast MPR programming through KWRV-FM in Sun Valley, Idaho.
But the real precedent for a deal with KAZU was set last week. MPR inked an agreement with KPCC Radio at Pasadena City College that will create a new entity, Southern California Public Radio. KPCC will get a news service and a national academy for training students in digital radio production, in exchange for which MPR will gain a broadcast outlet.
"We have talked about this as a precedent," says MPR spokesman Tony Bol, as quoted in the Dec. 11 column of St. Paul Pioneer Press media critic Brian Lambert. "We believe it would be healthy if larger, more established stations assisted smaller stations in strengthening their programming."
Can a "Northern California Public Radio" be far behind?
According to MPR vice president Will Haddeland, MPR is not interested in KAZU--at least not at this time.
"I don't think we're giving it serious consideration," Haddeland says of a deal with KAZU. "Part of our mission has been to strengthen public radio nationwide. I just don't think this fits in, but I wish them well, because it's important."
Marriage of Convenience?
THE QUESTION OF national versus local programming is a bedrock issue for public radio devotees, who provide the volunteer base necessary to run small stations like KAZU. For many, the debate over the future of KAZU goes to the heart of the listening community's self-image, a microcosmic reflection of the struggle for the soul of community radio nationwide.
KUSP board member Don Mussell was the force behind the creation of KAZU in 1977, which began in a $75-a-month studio above the Sprouse Reitz store on Central Avenue in Pacific Grove. Ironically, the creation of KAZU began in 1975, Mussell says, at a time when then 3-year-old KUSP was experiencing financial difficulties.
Does Mussell think it's still possible to operate a small community station on the kind of shoestring basis that some of the station's programmers are proposing--and that used to be the norm?
"Sure," he says. "KKUP in Cupertino is a good example of that. But some people think it tends to be amateurish, and that that's embarrassing."
Mussell believes a KAZU/KUSP marriage could be a good thing for KUSP.
"The potential is certainly there. It would open up extra hours to do things KUSP claims it wants to do, such as local news." Whether it will be good for KAZU, Mussell says, is less certain.
"I have mixed emotions," he says. "When I started KAZU it was to fulfill a need that KUSP was incapable or unwilling to fill. I don't see that as different now. KUSP will have to change to fulfill KAZU's mission."
In the past, he says, the KUSP board has been reluctant to stretch to embrace its entire area. All its board members are currently residents of Santa Cruz County--even though its signal reaches throughout Monterey County.
Mussell is also concerned about how the Pataphysical Broadcasting Foundation, a group of KUSP volunteers which owns KUSP's license, will react to potential programming changes--which in the past have been a hot-button issue. This may be the biggest programming challenge KUSP has ever faced.
"It's certainly a test of Troxell's managerial skills," Mussell says.
Bernhard is confident this bridge can be crossed safely.
"The board of directors is making the decision [about acquiring KAZU], but it won't make programming decisions," says Bernhard. "Ultimately, those decisions will be made by management and staff with a lot of input from interested parties."
Adapt or Die
It behooves one "to adapt oneself to the times if one wants to enjoy continued good fortune."
--Niccolo Machiavelli
A sign on the broadcast booth window at KAZU's studios.
MARC HAND was a Santa Cruz resident for 15 years, but is now a radio consultant based in Denver for Station Resource Group. SRG is a consortium of 48 member stations that does a combination of public relations, policy analysis and lobbying. Hand says he knows of perhaps 10 stations nationally having troubles similar to those of KAZU. But the biggest problem, Hand says, is the changing nature of the radio landscape.
Historically, small noncommercial stations tend to do a lot of "block programming"--three hours of jazz, two hours of classical, etc. The marketplace is demanding a more defined identity when it makes listening choices, Hand says. KUSP does block programming, but by far its biggest audiences are found during its national feed programs, Morning Edition and All Things Considered.
This trend, Hand continues, "has forced a lot of public radio stations not to do such mixes. They are shifting to primarily one thing or another, such as news or classical music." In the case of KAZU, the competition comes from other public radio stations in the area, including KUSP, KKUP and KZSC at UC-Santa Cruz.
While KAZU's woes are partly the result of a changing radio marketplace, they are also partly bad luck. After the 1997 fire, for example, KAZU was off the air for a while, during which time it lost about 20 percent of its funding that used to come from the Corporation for Public Broadcasting. It is unclear whether congressional funding cutbacks and subsequent eligiblity rule changes may also have played a role in the cut-off. But McNally recently received word from CPB that the station is on track to have some portion of its funding restored.
Nevertheless, McNally agrees with Hand that the art of creating an audience has changed.
"This is not 1977," McNally says. "The national debate over survival has now come to visit the Monterey Bay.
"Is our mission to totally retrench, or is it in fact to give the majority of people in the area the kind of programming they want?"
Fighting the Good Fight
THE IRONY, JT MASON says, is that the station can see the light at the end of the tunnel--if it can somehow hang on long enough. "If we could stay solvent for eight months to a year, we have an opportunity with Access Monterey to create a great media center, which would offer us free rent. We'd still have to do some cost cutting."
How much would it take to get the station over the hump for the next eight to twelve months?
"About $100,000 to $150,000," Mason says, which McNally confirms.
That's chump change in a wealthy area like the Monterey Peninsula. But can the community come together to save the station again, the way it did after the fire?
"Perhaps it's just a question of whether enough people know of the problem," McNally says. "We need membership, underwriting and grants. We've been rebuilding, and have all the systems, everything in place. Even an accurate database."
But KAZU board chair Peterson acknowledged in the Dec. 9 call-in show that donors can be reluctant to provide bridge funds in amounts like that without assurances that the station won't be back in a year asking for more. Right now, he says, it's hard to provide such assurances--which brings the issue full circle: sell the license and consolidate, or retrench into an all-volunteer operation, at least for a time.
Among the faithful around the station, spirits are running high. Programmer Kathleen Sullivan asserts defiantly: "We're going to save it [the station]. Quote me on that."
Mason's enthusiasm after 21 years also seems undimmed.
"We would prefer to stay independent. It goes beyond money," Mason says. "I love public radio. It's essential for our community, and that's the most heartbreaking thing for me. Who knows what will happen when the station changes."
[ Santa Cruz | MetroActive Central | Archives ]