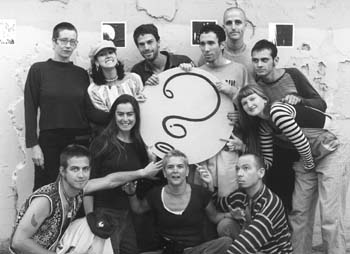 Now What? The What Is Art? collective is enthusiastic about what happens when their present spot is demolished.

All About What?

What Is Art? performers tear down the house--to clear the way for something better

By Mary Spicuzza

LOPI LAROE BOUNDS onstage at What Is Art? and recounts the six-year history of the tiny North Pacific Avenue venue with effortless grace--and a badly mangled fork. LaRoe explains that she found the fork lying in the road the day before the recent "Save What?!" benefit show. And with the smoothest use of metaphor imaginable, she describes the major decisions facing the local performance artists' collective in its near future. In mid-January, a wrecking ball will demolish the current location of What Is Art? due to longtime problems with site contamination.

Being tossed from a cozy, low-rent nook into the high-rent haven of downtown Santa Cruz isn't exactly a local artists' collective's dream come true. But when it comes to choosing whether to continue, LaRoe and her cooperative team don't see quitting as an option.

"Everything is pointing in the same direction," LaRoe said, wielding the now spear-shaped fork with a warrior's confidence.

Being an artist in Santa Cruz seems to require a fighting spirit. And What Is Art? key players like LaRoe, Disa Lindquist, Matthew Embry and Jason Arredondo seem well prepared to go to battle to continue the local performance tradition.

Not that the past six years have been a walk in the park. When LaRoe found the spot it was nothing more than an empty storefront with a small throw-rug.

"I was flooded out of my studio and needed a place to sew," says LaRoe, who is also a seamstress and the mastermind behind Headspace hemp hats. "I started to have the Anarchist Coffeehouse here, which turned into open mic. Hardly anyone showed up at first, except for this annoying guy with a box on his head."

But the What Is Art? following has grown rapidly, and most fans weren't sporting odd head-ware.

Instead of mourning the end of era, LaRoe and her artistic legions are celebrating the end as the beginning of something a little bigger and just as good, if not better. On Dec. 17, LaRoe and six other local artists come together for "The Wreckin' Ball." The show includes performance pieces by LaRoe, Wes Modes and Arredondo, spoken- word poetry by Julia Ann Delbridge and Lisa Radon and music by Aaron Strickler, as well as lovable punk-pop soloist Cassidy.

More than mere dancing on the brink of the end, the flurry of final performances for the present location of What Is Art? shows that LaRoe and others are looking for what comes after the wrecking ball. In just two days, the "Save What?" benefit shows earlier this month raised $1,600 dollars toward rent on the venue's future home.

"At the Saturday night show, Amy Churba came up and gave me $900," LaRoe says. "She gave me a hug and said, 'Keep doing what you're doing. You've done an amazing thing for the community. You're an Angel.'"

The collective may have already found a new home, but they're keeping things low-profile until sealing the deal. LaRoe says that Geoffrey Dunn of Community TV has adopted the cause and is advising her on keeping local art alive in Santa Cruz. And Bruce Van Allen, executive director of the William James Association and one of the key players in the newly released Cultural Action Plan, is meeting with her this week to talk about the future of local performance venues.

LaRoe says, "I don't want our kids to say, 'What Was Art?' "

My first experience of What Is Art? came with a Wednesday night open mic. Propped in a folding chair, I was surrounded by more empty metal seats than audience members. The original stage--a packing crate for a motorcycle--was tiny and towered above the audience. Still, the small, supportive audience was too busy calling out for favorite performers to whine about technical difficulties and sore backsides.

After arriving at the "Save What?!" show earlier this month, I scored a stylish theater chair, handed down from Actors' Theatre. But before sinking into sentimental musings about how much the little spot has grown over the years, I noticed the floor quickly filling with audience members. My friend and I returned from a hot cocoa run to find art-loving vultures swarming around our chairs. We reclaimed our seats and only bumped into the nice man sitting next to us a half-dozen times as we squeezed into them. Stragglers who'd left for a Saturn Café dinner lost their seats to people packed in the aisles.

But no one was complaining as Paul Sprawl began his should-be-patented strumming styles; performer Song Nelson busted out with creative use of kitchen utensils in a dance piece about learning to cook; and Lisa Radon launched into her powerful spoken-word performance. The night had enough creative energy to blast out the windows--no demolition equipment needed.
---
The Wreckin' Ball is at 8:30pm on Friday (Dec. 17) at What Is Art?, 2044 N. Pacific Ave., Santa Cruz. $5 donation requested. (458.9508)
---
[ Santa Cruz | MetroActive Central | Archives ]