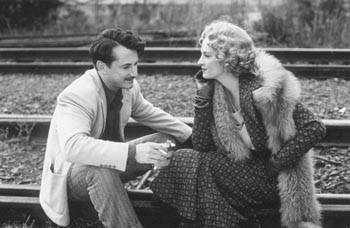 All Talent, No Tact: Sean Penn and Uma Thurman deliver jokey performances in 'Sweet and Lowdown.'

Jazz-mania Devil

Woody Allen conjures up a talented musical bastard in 'Sweet'

By Richard von Busack

I CAN'T COZY UP to Sweet and Lowdown just for the sake of nostalgia: either my own nostalgia for Woody Allen's better films, or the nostalgia the director conjures up so well with the aid of his production designer Santo Loquasto and the talented cinematographer Zhao Fei.

In Sweet and Lowdown, Sean Penn plays Emmet Ray, a fictional jazz guitarist of the 1920s in thrall to Django Reinhardt. A one-note performance is fatal in an actor playing a musician. Penn plays Ray as a gifted strummer but a rotten human being. He's a kleptomaniac who drinks too much, but his real flaw, as Allen sees it, is ingratitude toward the woman in his life.

Ray's wealthy, snooty, intellectualizing wife, Blanche, played by Uma Thurman, is togged out as Marlene Dietrich in a tuxedo. She's a phony, armed with breezy notions of being a writer. For Thurman, as for Penn, it's a joke performance without a punch line.

Samantha Morton co-stars as Hattie, the musician's mistress, a mute laundress who accepts Ray, well ... mutely. Morton's performance is heavily modeled on Giulietta Masina's in La Strada, which was also a picture about a rotten, self-centered performer who dragged around a waif. With Masina, however, there was never any doubt about her sexual maturity. Later, when Masina played a prostitute in Nights of Cabiria, it was apparent that here was a woman for sale, not a child.

In Sweet and Lowdown, the romance is almost unnatural. Morton, tiny and thin, is hidden in smocks, pinafores and floppy hats, and is always seen messily, greedily feeding on ice cream sundaes and pastries like a kindergartner. Hattie never has any real resistance to Ray's blustering and boasting; her little-girl biddability seems to be what attracts Ray more than anything else.

The great musicians of the rowdiest and most disreputable era of jazz may have been swine, but they had craftiness. Part of their anger and self-destruction was due to the fact that they were artists in the margin and they knew it. Ray doesn't have that justification for his misbehavior. Even the gangster club owners indulge Ray as a genius.

Only a few sequences in Sweet and Lowdown show the cunning that would keep a musician like Ray alive. In one smart scene, the guitarist snakes the first prize at a rural talent show by disguising himself as a hayseed. Usually, however, Ray is his own stooge, as in a laborious physical joke about a prop wooden moon that doesn't work.

The soundtrack revives some, but not much, of the lowdown hot jazz of the '20s, but most of the score recalls the sweet, gravy-rich strings of Les Paul in the '50s. The heavily underlined moral of the story is "be kind to those who love you, lest you be destroyed," and that's worthy of Eisenhower-era cinema, too.
---
Sweet and Lowdown (PG-13; 95 min.), directed and written by Woody Allen, photographed by Zhao Fei and starring Sean Penn and Uma Thurman, opens Thursday at the Nickelodeon in Santa Cruz.
---
[ Santa Cruz | MetroActive Central | Archives ]