01.20.10
home | the papers | metro santa cruz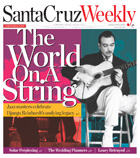 Gypsy Soul
One hundred years after the birth of Django Reinhardt, a cadre of musicians carry the torch of jazz manouche into the next century.
Ten Questions for Eric Thiermann
Santa Cruz-based filmmaker Eric Thiermann talks about his plans regarding beer and broccoli and explains why he tries to help friends whenever he can.
Streetsigns
Jessica Lussenhop pops in on a meeting of the Santa Cruz Mineral and Gem Society and finds its members rocking out, hardcore.

Santa Cruz Sun Burn
A new alternative energy finance program is intended to get city and county residents on solar without requiring huge sums up front, but at 9 percent interest, it might not be such a hot deal.
The Bullhorn
A San Francisco-based political activist makes the case for open primaries.
The Breakdown
PeoplePower holds a fundraiser to raise money for the Campaign for Sensible Transportation's lawsuit against CalTrans.

River Blues
'The Loss of a Teardrop Diamond' is lesser Williams, but Ellen Burstyn has a showstopping moment.
Dead Reckoning
Peter Jackson and Steven Spielberg contrast horrible reality and candy-colored fantasy in 'The Lovely Bones'

MORE MOVIE REVIEWS

SANTA CRUZ COUNTY MOVIE TIMES

Music Calendar Picks
Musical oddballs The Residents, Led Zeppelin cover band extraordinaire Heartbreaker and the mighty California Guitar Trio visit Santa Cruz stages this week.

MORE MUSIC AND NIGHTLIFE

MUSIC AND CLUBS LISTINGS

Iron and Wine
Helpful rules of thumb for pairing winter vegetables with tasty vintages

BOOK A RESTAURANT RESERVATION

FIND A RESTAURANT REVIEW

A new account of the drama surrounding the Harvard Psychedelic Club elaborates on Andrew Weil's betrayal of Timothy Leary and Ram Dass

Letters to the Editor
January 20 - 27, 2010