12.23.09
home | the papers | metro santa cruz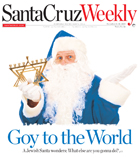 Goy To The World
Santa Cruz poet Robert Sward recalls the year he defied his nice Jewish upbringing and auditioned for a job as a Rent-A-Santa.
Ten Questions for Cynthia Edgerley
The owner of Bingo! Dog Training talks about life, plans and staying awake while reading.
Santa Cruz Holiday on The Hoof
Jessica Lussenhop spends some quality time with Carriage Ride driver Randy Clayton and his two draft horses, Josh and Greta.

Bamboosted Out Of Poverty
Can African nations ride bamboo bikes out of poverty? La Selva-based cycling designer Craig Calfee thinks so.
Astroturf: The Stepford Lawn
Permaculturist Ken Foster explains that Astroturf isn't just creepy. It's bad for you.

Flyover Country
Jason Reitman's 'Up in the Air' takes George Clooney's corporate hit man for a bumpy ride

MORE MOVIE REVIEWS

SANTA CRUZ COUNTY MOVIE TIMES

Two Beatles tribute bands—The Sun Kings and the White Album Ensemble—come to Santa Cruz this Christmas week, along with jazz phenoms the LeBoeuf Brothers and Trombone Shorty.

MORE MUSIC AND NIGHTLIFE

MUSIC AND CLUBS LISTINGS

Evening in Black China
Black China Bakery, home of the fabled currant scone, opens its doors for dinner.

BOOK A RESTAURANT RESERVATION

FIND A RESTAURANT REVIEW

A Spirited Performance
Cabrillo Stage production of 'Scrooge' is a nostalgic holiday treat.

Letters to the Editor
December 23 - 30, 2009