12.16.09
home | the papers | metro santa cruz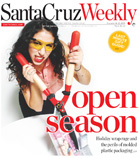 Open Season
Theft-proof plastic packaging isn't just irritating. It's bad for the planet and worse for your health.
Stave off panic with ideas for gizmos, box sets and outdoor gear from our Last-Minute Gift Guide.
Cat Powers
Observing the mature feminine mystique in action at the first National Cougar Convention.
Ten Questions for up-and-coming Watsonville politico Luis Alejo.
The Lady Riders of Santa Cruz
Biker gals confab on a rainy Saturday in December.

Opium War
The FDA's belated move to rein in rampant abuse of OxyContin
Breakdown
Finding out what's behind a new prescription discount card floating around Santa Cruz County.
Bullhorn
The UC system gets all the attention, but Cabrillo College anthropology teacher Allan Lonnberg reminds us the community colleges are suffering too.

Road Burn
Cormac McCarthy's searing postcard from the end of the world comes to the screen.
Pandora's Boxed In
A strange world tries to resist the invasion of earthlings in James Cameron's 'Avatar.'

MORE MOVIE REVIEWS

SANTA CRUZ COUNTY MOVIE TIMES

Love Bird
Former Santa Cruz singer-songwriter Rachel Williams admits she's obsessed with love.
Simon Says
Harper Simon's star-studded debut was hard-earned.
Music and Nightlife Calendar Picks
Grateful Dead offshoot Steve Kimock brings Crazy Engine to Moe's Alley; Wild Rovers play Don Quixote's, Dick Dale shreds and the Cayuga Vault says good-bye.

MORE MUSIC AND NIGHTLIFE

MUSIC AND CLUBS LISTINGS

Gifts In Good Taste
Christina Waters shares ideas for gourmet gifts for bon vivants.

BOOK A RESTAURANT RESERVATION

FIND A RESTAURANT REVIEW


Letters to the Editor
December 16 - 24, 2009