11.25.09
home | the papers | metro santa cruz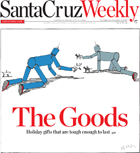 The Good One
The radically ecological, perversely philosophical, ultimately economical guide to holiday gift giving. Plus coffeetable books to die for and the season's entertainment highlights.
Ten Questions for Kristen Cederquist
Shut up--the jammin' genius behind Serendipity Spreads is NOT reading Julia Child's 'My Life in France'! Or is she? Read on.
The Piano Mover
The unlikely grace of Santa Cruz piano mover Ricky Maurice Howard.

Power to the People
Churches unite to battle poverty.
Bud Boundaries
Medical marijuana dispensary cap inches closer to law
Bullhorn
Micah Posner makes the case for a rail trail with passenger capability--a concept dubbed The Green Line.
Breakdown
The UC system's infamous 32 percent rate hike is 'highly unusual,' according to the editor of 'Inside Higher Ed.'

Cooling Trend
Bleak sci-fi and prickly dramas in this season's films.
Shlock Value
'Ninja Assassin' delivers artful gore and sly references.

MORE MOVIE REVIEWS

SANTA CRUZ COUNTY MOVIE TIMES

Music and Nightlife Calendar Picks
The B-Side Players, the Red Elvises and Dweezil Zappa head to Surf City.

MORE MUSIC AND NIGHTLIFE

MUSIC AND CLUBS LISTINGS

Magic Number
Cozy, casual and chic--the scene at 515 makes an appealing offer.

BOOK A RESTAURANT RESERVATION

FIND A RESTAURANT REVIEW

Palin Around
In 'Going Rogue,' Sarah Palin puts her own spin on everything, including the facts
Signed, Sealed, Delivered
Bay Area writers' autographed books are the prize in a seasonal fundraising drive

Letters to the Editor
November 25-December 2, 2009