January 17-24, 2007
home | the papers | metro santa cruz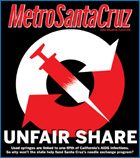 Needle Mania
With thousands of future HIV infections hanging in the balance, John Laird takes a stab at freeing up AIDS prevention funds for needle exchange programs.

Wellness Community Transformation Center
With an almost obsessive drive to create positive changes in the community, Jacob Cabrera unleashes rampant tea and an electronic om onto the city of Santa Cruz.
Nūz: Santa Cruz News and Politics
Nūz checks in on newly elected officeholders like first-time councilmember Lynn Robinson.

Movie review: 'Letters from Iwo Jima'
Clint Eastwood looks at the battle for Iwo Jima from the Japanese side.
Movie review: 'Pan's Labyrinth'
Guillermo del Toro's latest film blends fantasy and Spanish fascism.

MORE MOVIE REVIEWS

SANTA CRUZ COUNTY MOVIE TIMES

Music preview: Benefit for the Coup
Santa Cruz musicians rally round the troubled Bay Area hip-hop duo.
Mūz: Santa Cruz Media, Music and Arts
Renaissance genius, cosmic prankster and famed author Robert Anton Wilson died a week shy of his 75th birthday.
Music and Nightlife Calendar Picks
Our critics pick this week's most interesting gigs.

MORE MUSIC AND NIGHTLIFE

MUSIC AND CLUBS LISTINGS

La Posta
Traditional five-course meals carry hearty celebrations into the new year at the Santa Cruz restaurant.

BOOK A RESTAURANT RESERVATION

FIND A RESTAURANT REVIEW

Music preview: New Music Works
Cellist Joan Jeanrenaud slated for Saturday's concert.
Letters to the Editor
January 17-24, 2007.