October 11-18, 2006
home | the papers | metro santa cruz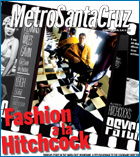 Fall Fashion
Our fashion issue is an homage to the Master of Suspense, Alfred Hitchcock.

Santa Cruz desalination plant proposal
Water expert Brent Haddad to join with others in public debate of proposal.
Brad Johnson
Godfather of Monterey surf community struck with cancer.
Nūz: Santa Cruz News and Politics
Arnold wusses on hemp.

Film Review: 'Shortbus'
John Cameron Mitchell's latest film breaks down the wall between porn and nonporn.
Film Review: 'Infamous'
Another retelling of the story behind the real Truman show.

MORE MOVIE REVIEWS

SANTA CRUZ COUNTY MOVIE TIMES

Music Profile: Fred Eaglesmith
With killer songs and sharp wit, cult hero sets his sights on Santa Cruz.
Mūz: Santa Cruz Media, Music and Arts
Alejandro Escovedo: He's never been your beast of burden.
Music and Nightlife Calendar Picks
Our critics pick this week's most interesting gigs.

MORE MUSIC AND NIGHTLIFE

MUSIC AND CLUBS LISTINGS

Dining: Crow's Nest
Comedy and cuisine get together.

BOOK A RESTAURANT RESERVATION

FIND A RESTAURANT REVIEW

Stage Preview: 'Tomfoolery'
Jon Rosen and company take quintessential satirist Tom Lehrer's songs over the hill.
Letters to the Editor
October 11-18, 2006.