April 5-12, 2006
home | the papers | metro santa cruz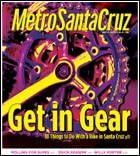 Ten Things to Do With a Bike in Santa Cruz
From tuneups at the Santa Cruz Bike Church and training rides with local cycling clubs to late-night cookie-runs and same-day package delivery, a rundown of exciting activities as bike season arrives.

Santa Cruz Political News: Chris Krohn
Santa Cruz County Board of Supervisors candidate Chris Krohn and his wife defend using university email to influence an online poll.
Nūz: Santa Cruz News and Politics
Brown Beret member Ramiro Medrano accuses the Watsonville Police Department of singling him out during immigration bill protests.

Car News: Diesel Cars Are Coming
Soon California drivers will be able to buy new, legal diesel passenger cars.

Movie Review: 'Duck Season'
Mexican feature tells the incredible story of a Sunday when nothing happened.

MORE MOVIE REVIEWS

MOVIE TIMES

Music Preview: Willy Porter
Willy Porter, who plays the Attic in Santa Cruz this week, talks about songwriting, spirituality and career independence.
Classical Music Review: The Miro Quartet
The Miro Quartet, who play at University of California Santa Cruz this week, celebrate their tenth anniversary by returning to their roots.
Mūz: Santa Cruz Media, Music and Arts
E-40 takes over the Clear Channel's KDON, Santa Cruz's Great Lost Poet Salon, Catalyst performances by Steel Pulse and Dead Prez's M1, and the announcing of the Cabrillo Music Festival's headliners.

MORE NIGHTLIFE

NIGHTLIFE LISTINGS

NIGHTLIFE CALENDAR PICKS

Beach Street Cafe
Casual atmosphere and surprisingly good cooking are on the menu at this Watsonville institution.