March 22-29, 2006
home | the papers | metro santa cruz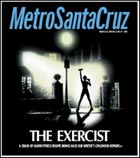 Fitness Boot Camp
A crack-of-dawn fitness regime brings back our writer's childhood demons.

Nūz: Santa Cruz News Briefs
Councilmember Emily Reilly withdraws formal support of the local minimum wage initiative; SEIU's March 17 walkout.

Car Culture: Hydrogen Power
Hydrogen can be made by electrolysis: splitting water. And the energy for this process could come from wind or solar power.

Movie Review: 'V for Vendetta'
All's well that's Orwell in dystopian vigilante film.

MORE MOVIE REVIEWS

MOVIE TIMES

Music Review: Asobi Seksu
Reaching the plateau of pleasure.
Mūz: Santa Cruz County Symphony and Fishbone
Juxtaposition of two concerts on one night highlights the quality and diversity of the Santa Cruz music scene.

MORE NIGHTLIFE

NIGHTLIFE LISTINGS

NIGHTLIFE CALENDAR PICKS

Santa Cruz Fisherman's Wharf Restaurants
Free jazz and plentiful provisions bring the municipal wharf to life.

BOOK A RESTAURANT RESERVATION

FIND A RESTAURANT REVIEW

Book Review: 'A Dirty Job'
Author Christopher Moore returns to California with a tale of comic mayhem about a matter no less weighty than Death himself.