February 15-21, 2006
home | the papers | metro santa cruz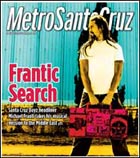 Frantic Search
Santa Cruz Dayz headliner Michael Franti takes his musical mission to the Middle East.
Vote Here!
Cast your ballot in the 2006 Goldies Readers Poll.

Dances With Deer
Brant Secunda and students find a Huichol way of knowledge.
Santa Cruz News Notes
Local artists react to Mohammed cartoon controversy.

Car Culture
'Secuestro' means kidnap, and the whole movie is about the carjacking and abduction of a wealthy couple from the streets of Caracas.

Again Young
Jonathan Demme films Neil Young in 'Heart of Gold,' with a mix of schmaltz and genuine magic.

MORE MOVIE REVIEWS

MOVIE TIMES

Chris Squire Just Says Yes to Syn
The Yes co-founder and king of all Rickenbackers explains the Syn's roundabout reunion.
Santa Cruz Music Notes
The weekend's surprise triumph turned out to be The Ike Reilly Assassination.

MORE NIGHTLIFE

NIGHTLIFE CALENDAR

Love, Sweet Love
Valentine's Day may be a memory, but the affair never ends at Chocolate.