January 11-17, 2006
home | the papers | metro santa cruz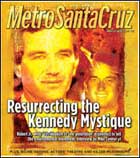 Resurrecting the Kennedy Mystique
Robert Jr. weds '60s idealism to 'me generation' economics to sell the environmental movement.

The Fantastic Fungi
As the annual Fungus Fair approaches, be warned: bold mushroom gatherers don't always grow old.
Santa Cruz County News
Santa Cruz Über Alles; Support the Troops; Campus Matters; Cronyism.

Car Culture
Driving through Baja at grandma speed.

Brave New World
Terrence Malick's sweeping yet sensitive epic finds new wonder in 'The New World.'

MORE MOVIE REVIEWS

MOVIE TIMES

Like Déjà Vu All Over Again
Almost 40 years after Woodstock, Richie Havens returns to Santa Cruz--still singing songs of freedom.
He Cares a Lot
Secret Chiefs III's Trey Spruance leads seven bands and a record label. What did you do today?

MORE NIGHTLIFE

NIGHTLIFE CALENDAR

Silver Lining
Clouds casts away those post-holiday doldrums.

BOOK A RESTAURANT RESERVATION

FIND A RESTAURANT REVIEW

Eight Plays in 80 Minutes
Sudden mood swings and short attention spans capture the stage at the Eight Tens @ Eight Festival.