December 14-21, 2005
home | the papers | metro santa cruz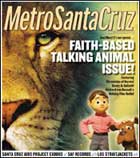 Oh Davey, Oh Goliath!
Or how the leaders of the Evangelical Lutheran Church shattered my belief in faith-based talking animals.

Santa Cruz News
The SCAP Shuffle; No Clemency; Snow Night Smackdown.

Car Culture
Although Bill is invariably disappointed with my boring decision to give him socks and underwear, something from the boys at J.C. Whitney gets him excited.

Two Rode Together
'Brokeback Mountain': Jake Gyllenhaal and Heath Ledger in a romance that'll frighten a few horses.
Lion Down
'The Chronicles of Narnia: The Lion, The Witch and The Wardrobe'—critter mayhem in a Christian land far, far away.
'Tis the Season
The holiday movie glut runs all the way through January for those who don't live in Oscar-contention towns.

MORE MOVIE REVIEWS

MOVIE TIMES

Nothing Amateur About It
Matt Driscoll and Strictly Amateur Films pump out the indie hits in Aptos, one release at a time.
Oh, the Things Yule See!
Los Straitjackets discover the meaning of Christmas.
The Rock Show
Nine Inch Nails; Bone Thugs-N-Harmony.

MORE NIGHTLIFE

NIGHTLIFE CALENDAR

Xin Hits the Spot
As a convenient neighborhood refuge, O'Mei's sibling restaurant Xin gets it right.

BOOK A RESTAURANT RESERVATION

FIND A RESTAURANT REVIEW