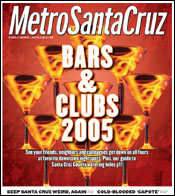 For the Week of
October 26-November 2, 2005
Cover Story: Bars & Clubs 2005:
See your friends, neighbors and colleagues get down on all fours at favorite downtown nightspots.
The Metro Santa Cruz 2005 Guide to Bars and Clubs: Our guide to Santa Cruz County watering holes.
Gimme Some Protection: Local high school students sound off about Prop. 73.
Nüz: Dragon Slayers?; Safety Dance; Day of the Dead.



Rev: Horse Trading: I saw multiple people drop by and gaze at my lovely truck before leaving in disgust. I was so relieved that I didn't have to interact with them.



Wily Capote: Philip Seymour Hoffman gets into the bloodstream of author Truman Capote.



Curating the Grotesque: For Oakland's Sleepytime Gorilla Museum, all the world's a stage.
Keeping the Weird Rolling: Ukulele Dick and an assembled cast of oddballs keep the surreal alive in Santa Cruz.
The Rock Show: Midnite; DJ Lorin.



Grave New World: The Rolling Darkness Revue brings its ghost writers to Capitola.



La Dolce Vita: With its friendly ambience and flavorful fare, Mama Mia's offers a taste of the old country.
Copyright © Metro Publishing Inc. Maintained by Boulevards New Media.