November 9-16, 2005
home | the papers | metro santa cruz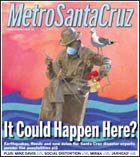 It Could Happen Here?
Earthquakes, floods and now avian flu: Santa Cruz disaster experts ponder the possibilities.

Nüz
Nüz Goes to Washington; I Am Sam; We Are the Champions; Workers of the World.

Car Culture
It takes three prisoners to make one license plate—one to unfurl the aluminum spool, another to place the film on the plate and a third to do the stamping.

Burning Men
Jake Gyllenhaal stars as neither an officer nor a gentleman in 'Jarhead,' a story about the Gulf War.
Defective Story
Shane Black pays ingratiating homage to Raymond Chandler in 'Kiss Kiss, Bang Bang.'

MORE MOVIE REVIEWS

MOVIE TIMES

Distort Yourself
Carrying on after the death of a lifelong friend and band mate, Social Distortion's Mike Ness discovers another state of mind.
Not Your Mama's Marching Band
Even after 10 years together, Drums and Tuba is still striving to perfect its sound. Results thus far have been inspiring.
The Rock Show
Mos Def; Lacy J. Dalton; Tom Brosseau.

MORE NIGHTLIFE

NIGHTLIFE CALENDAR

In Praise of Lunch
Whether you're escaping work or bringing it with you, Rebecca's is a treat for daytime dining.

BOOK A RESTAURANT RESERVATION

FIND A RESTAURANT REVIEW

Knotty Questions
'Place of No Escape' uses ropes and tires to explore creative solutions to gang violence.