November 9-16, 2005
home | metro santa cruz index | the arts | stage | review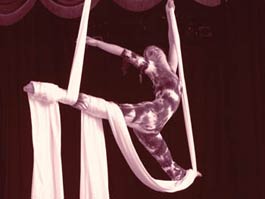 Miranda Rites You also have the right to be suspended by scarves and colorized in Photoshop.
Knotty Questions
'Place of No Escape' uses ropes and tires to explore creative solutions to gang violence
By Sarah Phelan
Teenagers, it would be fair to say, make for some of the toughest performance-art audiences in the world. But when those teens happen to be a bunch of at-risk youth watching a performance about at-risk youth, then the going really gets tough--at least, if you're hoping for any positive feedback.
That, at least, was this reporter's assessment, following a free preview of Place of No Escape that the ever-awesome Mir & A Company staged at the Vets Hall last week--an outreach performance that depicted gang conflict and the choices at-risk teens face, including nonviolent solutions.
Nonchalant audience response notwithstanding, Mir & A Company did its best to wow the youth with excerpts that relied on the performers' sinewy strength and a set of simple-looking props--a tire swing, a pair of curtains and two pieces of rope.
But the performances were anything but simple, involving breathtaking aerial rope-dancing, elements of capoeira, breakdancing sequences, drumming and a rapper who periodically punched out handy phrases such as "cease the habit of blood battles."
Of special note was the aerial rope dance that Mir & A Company member Kristin Hoffman pulled off on a pair of gauzy white curtains that were strung from the Vets Hall ceiling beams and which she used to hoist, twirl, wrap, swirl, tangle and unfurl herself, at heights and angles that seemed technically impossible. It was a performance so evocative and surreal that one teen allowed afterward that she'd found it "beautiful."
As Alta Vista teacher Lorraine Trombino confirmed, that comment was the exception to the rule.
"It's hard to reach and impress gangbangers," said Trombino. "They're pretty faddy and they have lots of street smarts. So when their real-life experience is dramatized, they tend to get into a funky place."
All of which is why Mir & A Company founder Miranda Janeschild, who based Place of No Escape, in part, on her experiences as an at-risk youth--expects little verbal input from teens post-show.
"But I saw what was happening in their eyes," says Janeschild of last week's preview. "At first the teens were sitting in their chairs with their hands against their cheeks and a 'why bother?' attitude. Then, their hands dropped, their eyes widened and they moved to the front of their seats. That tells me there's an interest. It's part of the many steps that need to happen, as we learn how to connect with youth and build relationships with teens and high schools."
As for the full-length show that hits the Attic in mid-November, Janeschild says, "It's an artistic show that will drop everybody's jaws. The talent is incredible. The idea is to show the audience the choices one makes when faced with a conflict, how you can fan the flames of anger--or seek to understand each other better."
One thing some teens did want to know, post-show, was how to learn to do neat stuff on the ropes.
The answer, says Noga Vilozny, who organizes an after-school program called Make Our Voices Empowered, is "through years of experience, but you're welcome to check out our classes, and scholarships are available."
Place of No Escape shows Friday-Sunday, Nov. 11-13 and Nov. 18-20, at the Attic, 931 Pacific Ave., Santa Cruz. Tickets $25. For information about the show and MOVE's classes, visit www.mirandacompany.com or call 831.420.1118.
Send a letter to the editor about this story.